'Eileen trusts Phelan and sleeps with him,' reveals Corrie's Sue Cleaver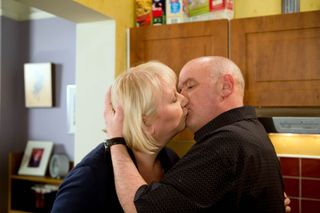 (Image credit: Joseph Scanlon)
Despite warnings from Anna and Izzy, Eileen and bully-boy builder Phelan become an item in Coronation Street. Sue Cleaver (opens in new tab), who plays Eileen, tells Soaplife about her character's new romance…
Before we get into the Phelan thing, why has Eileen dumped Michael?
"He backed her into a corner by keeping on and on about her and Phelan [Connor McIntyre (opens in new tab)]. Eileen had enough. She couldn't be doing with the silly, jealous man any more."
Maybe Michael had a point, though!
"Not so far as Eileen's concerned! She genuinely hadn't viewed Phelan as any more than a friend until he confessed his feelings for her. She certainly wasn't looking for anything like that. But she likes him and she trusts him, so she's more than happy to go when he asks her on a date."
And sleep with him!
"Everything Phelan's told her about his past seems completely legit and he's been nothing but a gentleman to her, so she believes everything he says. Why wouldn't she? He seems honest about Anna [Debbie Rush (opens in new tab)], too. He tells Eileen he had an affair with Anna and his version of events makes perfect sense to her."
So she doesn't believe a word Anna says about him?
"Well, one minute she says Phelan raped her, the next minute she says she slept with him so he wouldn't tell on her. So Eileen thinks, 'Make up your mind!' She doesn't believe her at all."
What about when Izzy backs up Anna?
"Izzy [Cherylee Houston (opens in new tab)] is bound to come and warn her off because of her relationship with Anna, so Eileen's just not buying it."
And how does Jason feel about his mum's new bloke?
"He's quite surprised at his mother's swift work! She asks him if he's all right with it and Jason [Ryan Thomas] says he will be as long as she tells Michael [Les Dennis] (opens in new tab)."
And if Eileen finds out the truth about Phelan?
"She'll be devastated and mortified. Eileen's always been a pretty good judge of character. She's always known if something's not right, but she's been completely taken in this time."
Watch this story unfold in Coronation Street (opens in new tab) on ITV from Monday 14 March
Thank you for signing up to Whattowatch. You will receive a verification email shortly.
There was a problem. Please refresh the page and try again.