Ex Emmerdale star Paul Loughran joins Corrie: 'I enjoyed teaching, but I missed the banter of acting'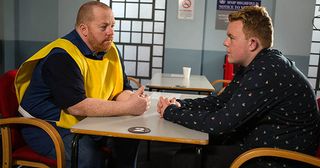 (Image credit: Mark Bruce)
It's been a long journey from playing Butch Dingle in Emmerdale to Corrie for Paul Loughran. He explains why he left primary school teaching to return to his fist love – acting
Back in 2000, actor Paul Loughran chose to leave the world of soap behind when he quit his role as Emmerdale's Butch Dingle to go travelling and spread his wings. He continued to act and then in 2009 he went to university and became a primary school teacher.
Paul loved working with kids, but missed stage and screen so much, he went back to acting and next week, he appears in Coronation Street as Craig Tinker's dad Darryl.
After a 16-year absence, soapland felt like home and while Darryl makes a fleeting appearance, Paul hopes that there will be more to come for the character.
Were you ready to go back to acting? "I feel refreshed and ready to go back to what I love doing. I chose to leave Emmerdale as I had spent my twenties there and I wanted to travel and spread my wings. I don't regret my decision, but I did miss the buzz of working on a long running drama where you have a team of really clever, creative people all working towards one end."
You play Darryl Tinker in Corrie, what is he like? "I don't think he's the best-intentioned human being, but he is not a black and white character. He is ambiguous. I think he is genuinely pleased to see Craig, but his own needs supersede anything. He has a long history of criminality and asks Craig to smuggle drugs into prison for him."
Would you like to continue playing Darryl? "I hope there is more to come from Darryl. It was reassuringly familiar being at Corrie. I was over the moon about the role, as I have always loved the show. I grew up with it and one of my first jobs out of drama school was to play a policeman in Coronation Street. I did some scenes with Bill Tarmey and Liz Dawn who played Jack and Vera Duckworth.
"This time round I really enjoyed working with Colson Smith who plays Craig and everybody was so welcoming. At one point, Barbara Knox who plays Rita came up to me and asked me if I was OK and whether or not I knew where to get a cup of tea. They were an exceptionally nice bunch of people."
Were you able to do acting while being a primary school teacher? "While I was teaching I didn't do much acting. There isn't that much free time at all, so I did voiceovers mainly. I did enjoy teaching. There is something lovely about interacting with children. When you make a class of seven-year-olds smile or help them to understand something they've been struggling with, it's a nice feeling.
"I had always fancied going to university and when Blue Murder finished in 2009, I decided that it was a good time to do a degree. My children were very young and I wanted to be at home, not away all the time. When I was acting, I yearned for a predictable job that would enable me to plan holidays and know exactly what I was doing from day to day, but it was a case of the grass being greener."
Are you glad that you did it? "I met some phenomenal children and it was a pleasure and honour to teach them, but I decided that I should stick to what I know best and that's acting. Although you are in a classroom with 30 children, you are on your own as a teacher and I missed the collaboration and banter that you get on a TV set.
"As an actor, you get to meet people you have never met before and do very intense, intimate and creative things in a short space of time. Having done the job, I now have the highest admiration for teachers – and nurses, police officers etc. All those people who work incredibly hard to keep the world running."
Did you enjoy working at Emmerdale? "I had the most amazing time being part of the Dingle family on Emmerdale with Steve Halliwell, James Hooton and Lisa Riley. It was the most magical time of my life. I left because I got to 30 and wanted to experience something different."
Do you still get recognised as Butch? "I think it will take me a long time to live that one down. Seldom a day goes past when someone doesn't recognise me as Butch, but everyone is really lovely."
What's home life like? "I've got three boys, so it's quite full on. I love TV, but you have to fight for the remote in our house as the kids want to watch cartoons."
Get the latest updates, reviews and unmissable series to watch and more!
Thank you for signing up to Whattowatch. You will receive a verification email shortly.
There was a problem. Please refresh the page and try again.