The Loch star Gray O'Brien: 'All the cast had different ideas who the murderer was!'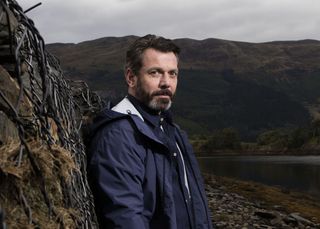 Former Corrie villain Gray O'Brien speaks about his exciting role in ITV's new crime drama The Loch…
Former Corrie star Gray O'Brien plays a goodie in ITV crime thriller The Loch. Or does he? The actor tells us more about his character, Alan Redford...
Who do you play in The Loch, Gray? "A lovely guy called Alan Redford, who runs a company that takes tourists out on a boat for the day on one of Scotland's most beautiful lochs. He's very happily married to a police detective called Annie and they have a lovely teenage daughter."
It all sounds a bit too good to be true… "Well, the body of a local man is found at the foot of a mountain, then a human heart is discovered on the loch's shore. Everyone's lives are turned upside-down. It's a close-knit community, but everyone begins to suspect everyone else."
How does this impact on Alan? "His daughter seems to be involved in some way, which is very upsetting for him and his wife, and it causes a lot of pressure within the family. But there are also problems for Alan and Annie."
What problems? "Alan loves Annie very much and he feels a bit insecure when it's obvious she has a rapport with one of the other police personnel who's called in to take part in the investigation. Annie's a good-looking woman and Alan is jealous."
How jealous does he get? "Now that would be telling, so I'm not going to say any more about what happens because I'm in danger of letting it slip. I'm a hopeless liar!"
Did you know who the killer was when you were filming The Loch? "We didn't find out until the very last moment. It was uncanny that all of us in the cast had different ideas about who the murderer was. We'd go out for dinner after filming and spend all evening trying to guess who it was. Hopefully, it'll be the same for the viewers."
Crime dramas are very popular at the moment… Why do you think that is? "They've always been popular, but there's a kind of new wave of them. They're much smarter and more cleverly written than they used to be and that's, in part, because the viewing public has so much more to choose from these days. As a viewer, you're choosy about what you watch. There's just not the time to invest in every series out there. What you do watch, you want to be really good, edge-of-the-seat stuff. I think The Loch is."
How do you look back on your time playing Tony Gordon in Corrie? "I was there for three years, but it went by in a bit of a blur because I was so busy. It was a great time for me, though."
The Loch, ITV, 9pm Sunday
Get the What to Watch Newsletter
The latest updates, reviews and unmissable series to watch and more!