Coronation Street star Kym Marsh: 'Robert Preston wants to be Superman'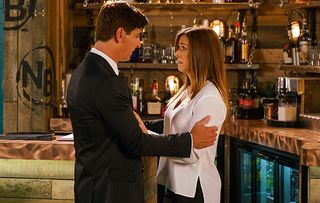 (Image credit: Mark Bruce)
Trouble brews when Michelle Connor pretends that she and Robert Preston have split up, Kym Marsh tells Soaplife. And the danger comes from Will…
Why would Michelle Connor make out that she and chef Robert Preston are no longer an item? To try to find out who's waging a vendetta against them! "It's Robert's idea. He's absolutely certain it's not [his former friend and drug-dealer] Rich who's got it in for them and he's worried about Michelle's safety," Kym Marsh told Soaplife. "Robert suggests that, as the perpetrator is obviously out to get him, Michelle will be safe if she makes out they've split up." But he's so wrong!
Does Michelle have any idea that her old flame, Will Chatterton, is behind all this? "None. He's not even on her radar and she hasn't seen any weirdness in him up till now. He's dating Maria Connor and everything, as far as Michelle is aware, seems to be going well between them. So it doesn't really register with her at all. She treats him as an old friend and she's grateful he seems kind and supportive, and that he's there for her."
Will she find out how twisted and dark Will is? "Eventually something happens, which is going to terrify her! It's very soon after the fake split with Robert [Tristan Gemmill] that Michelle realises something sinister is going on with Will. She's really creeped out and horrified."
Do things turn ugly with Will? "Basically, he discovers she's not been totally honest about things with him. But then Michelle makes a discovery of her own, which implicates Will massively and she suddenly has this 'Aaargh!' moment. It's very dramatic and she's desperate for help."
Michelle doesn't half have bad taste in men! "I don't think it's that so much – she's just a romantic. The romance with Will happened when they were teenagers. She hasn't had a real relationship with him since then, but he's obviously got some very strange emotions, deep down. Steve was just an idiot, but he was her idiot and she loved him for that."
How about Robert? "She knows now Robert's not squeaky clean, but his heart's always been in the right place. Everything Robert's done has been to try and improve Michelle's life, and to protect her. He's not very good at protecting her, though, when you examine his track record! He looks like Superman, but he's not. He's Clark Kent."
Coronation Street, ITV
Get the latest updates, reviews and unmissable series to watch and more!
Thank you for signing up to Whattowatch. You will receive a verification email shortly.
There was a problem. Please refresh the page and try again.