Robert has testicular cancer but won't admit it says Corrie's Tristan Gemmill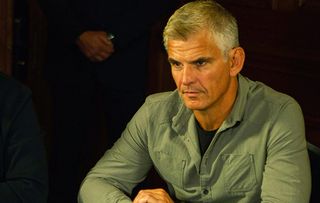 (Image credit: Mark Bruce)
He's only just got out of jail, but Robert Preston faces a battle with testicular cancer, Corrie's Tristan Gemmill tells Soaplife…
Robert Preston should be a very happy chap now he's out of prison. But he has found a lump and the doctor confirms his worst fear, says Corrie's Tristan Gemmill
What's the story?
Robert Preston has been released from jail and he's back home with his loving partner, Michelle Connor. So he should be feeling on top of the world. But he has a nagging health fear that refuses to go away, even though he's trying to ignore it. "There's a lump in one of his testicles and Robert knows it could be testicular cancer," Tristan Gemmill tells Soaplife. "At Michelle's insistence, he makes an appointment with the doctor. But he ends up not going because he has a morbid fear of hospitals and cancer after watching his father die from the disease."
What's happening in Coronation Street? See the latest soap storylines
Tristan Gemmill reveals all to Soaplife
Soaplife: How long has Robert been aware of the lump on his testicle?
Tristan Gemmill: "For quite some time, and he's struggling to deal with it. He's terrified he might go the same way as his father. He doesn't mention the lump to Michelle, but she notices it when they're in bed.
S: What's Michelle's reaction?
TG: "She's the voice of reason. If you catch testicular cancer early enough, there's a good chance of long-term survival. In his heart of hearts, he knows that. But he's still terrified."
S: Then fate intervenes…
TG: "Young Joseph Brown runs out into the road into the path of a van. Robert leaps out to save him, but he's injured in the process and he's taken to hospital. Michelle uses the time while he's immobilised to get the urologist in."
S: How does Robert react?
TG: "Even though he feels backed into a corner, he reluctantly agrees to an examination. The doctor says there's definitely something there that he needs to check out, so he recommends that Robert gets a scan immediately."
S: And the scan shows Robert has cancer and needs surgery.
TG: "Robert feels everything is getting out of his control, which he can't cope with. He basically says, 'Thank you for making me aware of it. I'll think about it.' He doesn't know how to cope with it because of what happened to his dad. He just wants to get out of the door and he doesn't tell Michelle what's happened. It's his worst fear. The thought of everything being taken away from him in the same way he watched his dad go is too much to bear. He's terrified to the point of being frozen with fear and that's why he won't talk to anyone or do anything about it."
S: In an attempt to forget his illness, Robert heads to the casino. What happens there?
TG: "The pressure has got to him and he makes some poor decisions. He's trying to pretend nothing is wrong, but he simply can't stop…"
Coronation Street,ITV
Get the latest updates, reviews and unmissable series to watch and more!
Thank you for signing up to Whattowatch. You will receive a verification email shortly.
There was a problem. Please refresh the page and try again.