Stage star Richard Fleeshman reveals how Corrie was the start of everything for him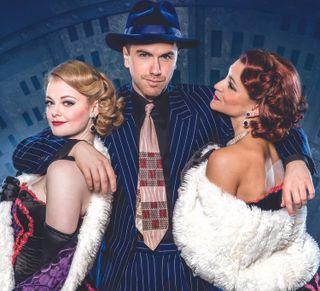 Former Corrie star Richard Fleeshman talks to Soaplife about his latest role and growing up in a showbiz family...
What are you up to right now?
"I'm appearing in the nationwide theatre tour of the classic musical Guys and Dolls. I'm playing ladies' man and keen gambler Sky Masterson, who was played in the movie version by the legendary Marlon Brando."
They're big shoes to fill!
"I know! Exciting, though. What's not to love about playing this character? He comes on stage looking really cool, gets to sing some amazing songs and kiss some beautiful women!"
Were you nervous about starring in such an iconic show?
"Yes, but it's a different kind of nerves to being in Ghost The Musical, which I've also done. In a new production like that, you can expect teething problems. Guys and Dolls is a classic, you know it works. So if things aren't going right, it's clear it must be down to the cast! We're doing very well, though."
How long is the tour?
"Until July 30. I've never toured in a production before – I've always stayed put in London or New York shows – so this is a whole new experience for me. Before we opened it took me a while to get my head around the fact that I wouldn't be home for weeks. I'm enjoying the travelling aspects to it, though. We're visiting some amazing cities, such as Dublin, Edinburgh, Aberdeen and Newcastle. I have quite a few friends scattered around the UK and it's great being able to catch up with some of them."
Talking of friends, do you keep in touch with your old Corrie mates?
"Ryan Thomas [who plays Jason Grimshaw] is one of my best friends in the world – he's like my brother. It's 10 years now since I left the Street, but Ryan and I are still very close and always will be."
How do you look back on your time playing Craig Harris?
"With a huge amount of gratitude and fondness. I was in Corrie for four years and it was the start of everything for me. It was a big learning curve and I even got to film with Sir Ian McKellen, for goodness sake!"
Your mum, Sue Jenkins, was in Coronation Street and Brookside. Was she influential in you becoming an actor?
"I've been influenced by both parents - my dad, David Fleeshman, is an actor, too, and also directs. As kids, my sisters and I would sometimes go the studio with mum or to the theatre with dad, and seeing them at work did spark an interest in me."
Get the What to Watch Newsletter
The latest updates, reviews and unmissable series to watch and more!