Doctor Who's Michelle Gomez: 'God gave me this face, I was always going to play witches and bitches'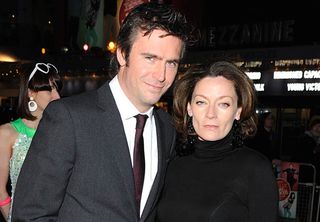 (Image credit: PA Archive/Press Association Ima)
TV & Satellite Week talks to Michelle Gomez (opens in new tab), who goes into battle in a dramatic series finale of Doctor Who (Saturday, BBC1)...
So, did you see that coming? Last week's episode of Doctor Who (opens in new tab) – the first in the two-part finale by Steven Moffat – gave us Danny Pink's apparent demise and the truth about 3W and what they were really doing with all those unfortunate dead bodies.
Of course, the biggest reveal of all involved mysterious Missy, played by Michelle Gomez, who was unmasked as one of the great villains of Who history – The Master.
In the run-up to Saturday's series finale, Death in Heaven, we caught up with Michelle in New York, where she lives with her actor husband Jack Davenport, to talk about her dramatic introduction to the Whoniverse…
The internet was awash with speculation about Missy's identity for weeks. Were you ever tempted to spill the beans?
"Are you crazy? I haven't had this much fun since I tried to determine the sex of my child. There are some mysteries in the world that have to be maintained, and Missy was one of them."
Apparently you were originally offered another Who role but turned it down…
"Well, I had to. I was filming Psychobitches and, because I don't have a TARDIS myself, I couldn't physically be in two places at once. But it stung. I'm not joking. Doctor Who is a dream project and I figured I'd never get another chance."
So what happened?
"I wrote to Steven Moffat, saying, 'Can you hear me screaming across the Atlantic? And beating my chest and roaring like a large, alpha male gorilla? I can't believe I had to say no, and I hope that wasn't my only chance.' He came straight back and said, 'Well, what about this part...' And as I read it, I yelped. I actually yelped. It was so fantastic."
You're known for playing slightly unhinged characters – Green Wing's Sue White, Bad Education's Miss Pickwell, now Missy. Why is that?
"God gave me this face. You know, I don't have a button nose. With this profile I was always going to be playing witches and bitches. Actually, I don't think of them as being unhinged. Pickwell was frustrated at working with imbeciles. Sue White was just bored. I think they're a kind of mouthpiece for women who are a little different. They're intelligent, fearless, and they don't give a fig what you think about them."
Michelle with husband Jack Davenport
Fans have called Missy 'Scary Poppins'. What did you make of her wardrobe?
"Well, I do like my pies so they had to work hard to pull me into that costume. There was one point where I was laughing so hard at something Peter Capaldi said that I nearly broke a rib, I was corseted so tightly."
You, Peter, Steven Moffat... There's quite a Scottish contingent on Doctor Who…
"Yeah, we're taking over. We may not have won the referendum, but we won Doctor Who!"
What was it like filming those scenes with the Cybermen outside St Paul's Cathedral?
"Completely surreal. Hundreds of people turned up to watch. Some of them were fans. Some were regular Joe Bloggs wandering around, thinking they'd been caught on candid camera. Grown men and women turned into children. It was like being in Disneyland."
Do you have any plans for the final episode?
"Jack and I are going to watch it with friends. We live in New York, but there's a store here that sells British food. There will be pork pies, KitKat Chunkies, Yorkshire Blend and maybe a Pot Noodle. To be honest, it will be quite a relief not having to keep all those secrets any more."
Get the latest updates, reviews and unmissable series to watch and more!
Thank you for signing up to Whattowatch. You will receive a verification email shortly.
There was a problem. Please refresh the page and try again.