7 times we felt sorry for Downton's Thomas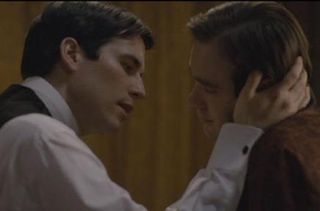 Downton Abbey's dastardly Thomas Barrow (Rob James Collier) is going through a pretty rough time at the moment. He's convinced he's about to his lose his job and almost everyone in 1920s England hates him.
But not for the first time TV Times finds itself feeling sympathy for the wayward Under Butler. Here's seven moments when, against our better judgement, we felt bad for Mr Barrow…
1 HIS BLACKMAILING BACKFIRED
(Series 1 Episode 1)
From the off, Thomas proved unlucky in love when he snogged the Duke of Crowborough who then, unsportingly, didn't offer him a job. To make matters worse, Thomas' subsequent blackmail attempts were screwed when the aristo swiftly burned the love letters that could have incriminated him. If only Downton had a scanner!
2 HE GOT HIMSELF SHOT
(Series 2 Episode 1)
Yes it was cowardly, yes it was typical Thomas, but it was also pretty understandable when, faced with the horrors of World War One, he raised his hand above the trench to deliberately get shot and be sent home. (Although he and everyone else now conveniently forgets his disabilitating injury when he has to give a Crawley child a piggyback, shift furniture, etc…).
3 HE CRIED FOR A SUICIDAL MAN
(Series 2 Episode 2)
We could only weep along when Thomas showed that he did have a heart after bonding with a patient at the cottage hospital only to see the man commit suicide.
4 HE WAS REJECTED


(Series 3 Episode 7)
When Thomas tried to unseat footman Alfred, he made a schoolboy error and overlooked the fact that his one-time partner in crime O'Brien was Alfred's auntie. Oopsadaisy! O'Brien duly retaliated by making Thomas think that Jimmy had the hots for him When Jimmy rejected his overtures a tearful Thomas nearly lost his job.
5 HE WAS BEATEN UP
(Series 3 Christmas special)
We felt both sadness and admiration for Thomas after he saved Jimmy (his unrequited love) from a beating at the hands of local yobs by offering up himself for a battering instead.
6 HE MADE HIMSELF ILL
(Series 5, Episode 6)
Our hearts went out to Thomas when he decided to "cure" his homosexuality with a "medical treatment" (actually, a near fatal cocktail of drugs) that did nothing more than transform him into a zombie.


7 EVERYBODY HATES HIM
(Series 6, all episodes)
Everyone has warned new lost interest, footman Andy about Thomas. To make matters worse, Carson and Lord Grantham can barely contain their excitement at the prospect of sacking Mr Barrow. Be careful what you wish for gentlemen – crazy, mixed-up but strangely loveable Thomas is slowly winning over the nation….


CAREN CLARK


Get the latest updates, reviews and unmissable series to watch and more!
Thank you for signing up to Whattowatch. You will receive a verification email shortly.
There was a problem. Please refresh the page and try again.