A happy finale for Downton Abbey's Mr Carson and Mrs Hughes?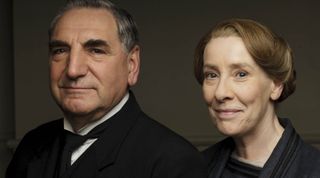 Downton Abbey stars Jim Carter and Phyllis Logan have hinted at how their love story unfolds in the final series.
Viewers will know it took ages for them to finally get together, but is Happily Ever After on the cards for them?
"It does get resolved, but not without some heart-searching along the way," says Logan, who plays Mrs Hughes, in an interview with the Radio Times.
Jim Carter, who plays Mr Carson (Ian West/PA)
Carter, who plays Mr Carson in the show and is married to actress Imelda Staunton in real life, offers his own take on it all: "It's a Julian Fellowes script, so nothing is easy. Obstacles are always put in the way."
The pair reveal they wanted their characters to get together as much as fans did.
Phyllis addressed the fact that their on-screen relationship also tackles other issues.
"Viewers have grown up with these characters," she said. "Love and sex – it's not just for youngsters! It's nice to think there's still an interest in these old fuddy-duddies. They're not dead from the neck down the minute they turn 50."
She and Carter, along with the rest of the cast, shed many tears on the last day of filming, which was August 12.
Downton Abbey (Carnival Films)
Talking about Fellowes' narrative and how the show deals with 'big issues', Carter said: "He was clever to set it when he did, in a period of big social change. There were some areas where you couldn't go too deeply. If a black jazz singer had arrived in North Yorkshire in the 1920s, folk would have fainted, screamed or called the police!"
For Logan though, parts of the storyline are close to home: "Mine was a very working-class background. I grew up knowing about haves and have-nots. But the Granthams are a very benign lot – not everyone was like that – some were quite dreadful to their employees. But I'm not sure how Downton would've played if it had been harder."
Jim revealed his last line in the final series, and it's sure to keep fans guessing as to its hidden meaning.
He said: "My last line goes something like this: 'It's going to be a different life, but we'll manage … together'."
Get the latest updates, reviews and unmissable series to watch and more!
Thank you for signing up to Whattowatch. You will receive a verification email shortly.
There was a problem. Please refresh the page and try again.