Lesley Nicol: 'I get better costumes than in Downton!'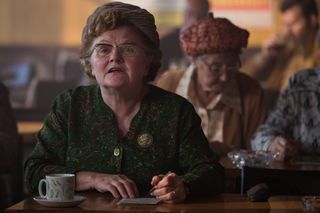 (Image credit: BBC/Company Pictures/Matt Squire)
Downton Abbey star Lesley Nicol has ditched her pinny and cap for her guest role in the new series of Inspector George Gently.
An international star thanks to her role as Downton Abbey's quick-tempered cook, Mrs Beryl Patmore, Lesley plays tragic housewife Bridget in the BBC1 crime drama, starring Martin Shaw.
Lesley, pictured here playing bingo on the set of Inspector George Gently, said: "I play Bridget, who has lost her only child, Esther, to mesothelioma and is now watching her husband, heartbreakingly played by Nick Woodeson, lose his battle with the same disease. Both Norman and Esther were exposed to dangerously high levels of asbestos in the factory where he worked for many years."
During the programme viewers will see George (Martin Shaw) led to Bridget's home during his investigation into the sinister death of a GP who was secretly investigating Asbestos-related illnesses.
Lesley said: "Like most actors I enjoy dressing up for a living! In Inspector George Gently I am playing a 60-year-old woman in the 60s so I had lots of old lady clothes! I got more of a variety than I do in Downton Abbey, as us downstairs don't get much variety!"
Lesley has starred in many of the nation's favourite and iconic dramas including Mrs Pants in Blackadder II and Mrs Beaver in children's classic The Lion, The Witch and The Wardrobe. Surprisingly her first film role didn't come until 1999 when she played Auntie Annie in East is East, reprising the role for the sequel West is West in 2010. Lesley was also the voice of Aunt Tea in Tetley's adverts!
She said: "The George Gently actors are marvellous - very cheeky and funny to work with! I once did a play with Lee Ingleby at Manchester's Royal Exchange Theatre - it was terrible but we had a laugh!"
Lesley is currently working on the final series of Downton Abbey. She can be seen in Inspector George Gently on Wednesday May 6 at 8pm on BBC1.
Get the latest updates, reviews and unmissable series to watch and more!
Thank you for signing up to Whattowatch. You will receive a verification email shortly.
There was a problem. Please refresh the page and try again.