Text Santa video special: 'live from Downton Abbey, it's Downton's Got Santa!'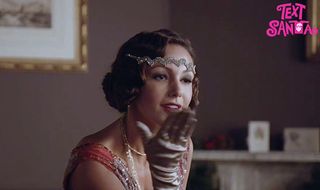 ITV reports that this year's Text Santa (opens in new tab) was a record breaker after raising more than £8.5million by the end of Friday evening.
The show saw Richard Branson make his Coronation Street (opens in new tab) debut, a host of celebs tackling the Ninja Warrior course and the Downton Abbey lot searching for a new Father Christmas, which included auditions from former Corrie star Michelle Keegan (opens in new tab), who dazzled Lord Gratham (Hugh Bonneville (opens in new tab)) with her performance of "Santa Baby", Gok Wan (opens in new tab) promising to give Santa a makeover, DCI Vera Stanhope (Brenda Blethyn (opens in new tab)), who was looking for a murder case - "it's a Stately Home, there has to be one" - but would have happily settled on being Father Christmas, and Sir Bruce Forsyth (opens in new tab), who tried to soft-shoe shuffle his way to the part.
Michelle Keegan would have got the role if Lord Grantham had his way
"Who's booking these guests?" asks Lord Grantham. "I mean, last year we had George Clooney (opens in new tab)…"
But the best line came from Isobel Crawley (Penelope Wilton (opens in new tab)), when she told footman Andrew (Michael Fox (opens in new tab)) what she thought of his Santa audition.
You can enjoy the whole sketch below, and see that the best Santa was right under their noses all along.
Plus, there were live performances from Olly Murs (opens in new tab), Little Mix (opens in new tab) and The X Factor winner Louisa Johnson (opens in new tab).
You can give hope this Christmas by donating to Text Santa (opens in new tab). 100 per cent of your donations will be shared equally amongst Macmillan Cancer Support, Make-A-Wish® UK and Save the Children, going directly to support vital work both in the UK and abroad.
If you missed the Downton special, you can watch it below. Molesley (Kevin Doyle (opens in new tab)) the footman was certainly excited!
And there's the last-ever Downton Abbey (opens in new tab) airing on ITV, Christmas Day, 8.45pm.
Thank you for signing up to Whattowatch. You will receive a verification email shortly.
There was a problem. Please refresh the page and try again.