Xmas Downton: TVT's 10 things that MUST happen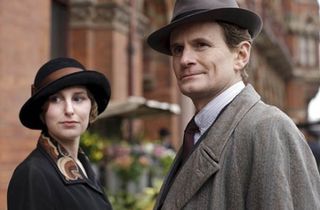 After the shock-packed finale of Downton Abbey (opens in new tab) 's final series, there are still several major questions that need to be answered before Downton closes its doors for good on Christmas Day. Here's the 10 things TV Times (opens in new tab) needs to see before we say farewell to the Crawleys and co.
What do you want to happen in the Christmas special? Let us know below in our comments section....
1 GREGSON BACK FROM THE DEAD
Gregson's body - or is it? - has been found in Germany but it's been implied that it was difficult to identify the plucky journalist. Could his death have been faked to allow him to flee from the Nazis? We do know Miranda star Patricia Hodge guests in the Christmas special but her character remains a mystery. Could she be Gregson's mum who pops in with news that will turn Edith's life upside down?
2 EDITH AND BERTIE REUNITE
But... if we can't have Gregson back, Edith will just have to swallow her pride and beg Bertie to forgive her for keeping Marigold's true identity a secret, because she actually looked really happy (for once) with him - plus he's a lord now and that would allow her to get one over on simply ghastly sister Mary.
3 THE BIRTH OF BABY BATES


Elephants have shorter pregnancies than poor Anna but we're told the special will conclude on New Year's Eve 1925 so surely Baby Bates will have arrived by then. Plus, Downton creator Julian Fellowes risks being thrown in the Tower if he denies Anna and Bates a happy ending!
4 A PREGNANT MARY


Talking of babies.... now that Mary has finally made up her mind and married the dashing Henry, another heir to the family seat must be next on her list. Then, when the much-mooted Downton: The Movie happens, it can be set a decades into the future with George and his half-sibling battling over the inheritance with lights sabres.
5 A NEW JOB AND A BOYFRIEND FOR THOMAS


Carson and Lord Grantham need to examine their consciences and find the much-maligned Under Butler a nice new job with a rich, handsome but lonely young lord, with whom Thomas can cut a scandalous swathe through 1920s society. To add to his case, here are 7 times we felt unexpectedly sorry for dastardly Thomas.
6 BRANSON IN LOVE
Surely Branson is due for some happiness too. At Brooklands, we spotted a little spark between the lovely ex-chauffeur and Edith's nice young lady editor Miss Edmunds, who seems modern enough to make it a good match without being deeply irritating like his former squeeze Miss Bunting. Go on Branson, make a move!
7 THE RETURN OF PATRICK CRAWLEY
That mysterious bandaged veteran in series two who claimed he was Patrick Crawley (Robert's original heir who everyone thought had been drowned during the sinking of the Titanic) could return with further proof of his identity - giving Lord Grantham a fatal heart attack and alllowing him to claim his inheritance and turf out the rest of the family.
8 LOVE - AND MURDER! - BELOW STAIRS


We were promised weddings galore before the end and we've only had two so far, so.... if Daisy marries Andy, and Mrs Patmore marries Mr Mason, they could all run the farm and Mrs P's B&B together (Daisy's passed her exams now so she can do the accounts). Then Baxter can marry Molesley, and Denker and Spratt could… No wait, Violet's scrapping servants would be more likely to kill each other than tie the knot!
9 THE MARRIAGE OF ISOBEL AND LORD MERTON
Lord Merton's stroppy son Larry and weirdly stalkerish future daughter-in-law Miss Cruikshank could be tragically (cough!) eaten by a lion on their honeymoon. This would then allow Isobel to become Lady Merton and finally have equal social status with her sparring partner Violet....
10 THE DEATH OF THE DOWAGER COUNTESS


Now, before you get too upset, we absolutely love Violet Crawley but...the always-excellent Dame Maggie Smith looks to have opted out of any future movie after saying, "I'm glad it's over. By the time we finished, Violet must have been about 110. It couldn't go on and on." So perhaps the magnificent Violet can depart in a blaze of glory - bringing down the cottage hospital with her as she goes...
In the meantime, here are Violet's 9 greatest lines so far...
What do you want to happen in the Downton Christmas special? Let us know below in our comments section....
Caren has been a journalist specializing in TV for almost two decades and is a Senior Features Writer for TV Times, TV & Satellite Week and What's On TV magazines and she also writes for What to Watch.
Over the years, she has spent many a day in a muddy field or an on-set catering bus chatting to numerous stars on location including the likes of Olivia Colman, David Tennant, Suranne Jones, Jamie Dornan, Dame Judi Dench and Sir Derek Jacobi as well as Hollywood actors such as Glenn Close and Kiefer Sutherland.
Caren will happily sit down and watch any kind of telly (well, maybe not sci-fi!), but she particularly loves period dramas like Call the Midwife, Downton Abbey and The Crown and she's also a big fan of juicy crime thrillers from Line of Duty to Poirot.
In her spare time, Caren enjoys going to the cinema and theatre or curling up with a good book.
Get the latest updates, reviews and unmissable series to watch and more!
Thank you for signing up to Whattowatch. You will receive a verification email shortly.
There was a problem. Please refresh the page and try again.