Ex-EastEnder Charlie Clements: I still get recognised for playing Bradley Branning!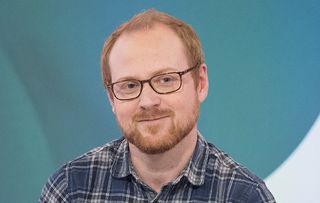 (Image credit: Ken McKay/ITV/REX/Shutterstock)
Albert Square's much-missed Bradley, aka actor Charlie Clements has talked to Soaplife about his new stage tour…
It was eight years ago this week that poor old Bradley Branning plunged to his death from the Queen Vic roof in EastEnders. Since leaving Albert Square, actor Charlie Clements has carved out a successful stage career. Charlie has chatted to Soaplife about his latest play, The Case Of The Frightened Lady, and why he wouldn't want to do another soap.
Soaplife's interview with Charlie Clements about what he's up to now and still being recognised as Bradley
Soaplife: What are you up to, Charlie?
Charlie Clements: "I'm touring the country in a Bill Kenwright production of 'The Case of the Frightened Lady' by Edgar Wallace. It's a classic whodunnit."
S: Who are you playing?
CC: "Detective Sergeant Totti – one of the policeman called in to try and solve the murder. He has Italian heritage and is a junior detective."
S: How long is the tour for?
CC: "Nine months, although I don't know at this stage whether I'll do the whole run. Maybe I'll just do the first half. I have a young family now and I miss them when I'm away. Touring is par for the course when you're an actor, though."
Charlie with former EastEnders co-star Lacey Turner at a 2006 awards bash
S: Incredibly it's eight years since Bradley Branning fell to his death in EastEnders!
CC: "I know! That's a long time ago now. I don't regret it. I decided to leave and they decided to kill Bradley off. It's OK, though. It's how it goes. I knew when I left it would be a clean break with no chance of going back."
S: Are you still in touch with Lacey Turner, aka Stacey, who was married to Bradley?
CC: "Yeah – I see her now and again. Quite a few of the other cast members, too. We meet up when we can, although they're really busy and so I am. It's not always easy to get together."
S: You don't half look different to how you did when you played Bradley!
CC: "Ha, ha! Yeah, well, I'm 30 now. Not 18 anymore which is the age I was when I started playing him. I occasionally still get recognised for playing Bradley – when people get chance to get a good look at me, that is."
S: Would you ever consider joining another Soap?
CC: "That's a tricky one considering Corrie's in Manchester, Emmerdale is based in Yorkshire and Hollyoaks is filmed in Liverpool. I have to consider my family and we live in the south. Never say never, though!"
S: Is there any particular role you'd love to take on?
CC: "So many! I'd love to do more TV and film in addition to theatre. A role in a show like 'Boardwalk Empire' would be perfect!"
Main pic: Ken McKay/ITV/REX/Shutterstock and awards photo: Joanne Davidson/Silverhub/REX/Shutterstock
Get the latest updates, reviews and unmissable series to watch and more!
Thank you for signing up to Whattowatch. You will receive a verification email shortly.
There was a problem. Please refresh the page and try again.