EastEnders' Lacey Turner: 'I found myself feeling quite stupid learning about Stacey's psychosis'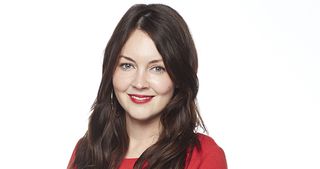 (Image credit: BBC/Nicky Johnston)
Having acted out on-screen rape, abortion, an affair with her father-in-law and murder, Lacey Turner (opens in new tab) might have been forgiven for thinking there was nothing left for EastEnders producers to surprise her with.
But when current boss Dominic Treadwell-Collins sat Lacey down for a chat last year and revealed that her character, Stacey Branning, would believe that her newborn baby was the son of God, the storyline sounded so outlandish that she wondered if he was pulling her leg.
TV Times (opens in new tab) catches up with Lacey during a break in filming to talk about her post-partum psychosis storyline.
How did you react when Dominic told you about the 'son of God' storyline?
"I was in shock; I didn't know if I believed him or not and then I realised he wasn't joking and he was deadly serious.'"
With such a challenging storyline you must have done a lot of research to portray Stacey's illness...
"She is currently suffering from post-partum psychosis, an illness that is believed to affect one in a thousand women after giving birth; particularly those who, like Stacey, already have a mental health condition such as bi-polar.
"They can arrive as quickly as two hours after delivery, and involve hallucinations and delusions that are devastating for the sufferer and their family.
"I found myself feeling quite stupid, because I didn't have any idea that this could actually happen. Having understood the facts, I decided I needed to talk to real-life sufferers."
How did you find manage to find them?
"I worked closely with the charity MIND and they brought two women to the set, Kathryn and Eve, who work as media volunteers. They've both suffered from post-partum psychosis, so for me and James Bye [who plays my partner, Martin Fowler], their stories were vital to hear. I'd listen to them and find myself laughing one minute and crying the next. My god, they are seriously strong women."
So once you understood the condition did you find it daunting having to act out the storyline?
"I thought: 'How the hell do you play that your child is the son of God?!'
"I soon found out that for people who suffer with post-partum psychosis, it's quite common for their hallucinations to be attached to religion. But then it was a difficult thing to act because I'm not religious at all. So I thought the best way to play it was that Stacey's baby, Arthur, was the most precious thing ever; like he was made of glass and she had to protect him with her life. And that was how I've managed to get through it, really."
Is it right that you avoided shampoo for added realism?
"I just thought 'Well, Stacey, hasn't had a wash.' I mean, I did wash; I promise you I washed! But I didn't wash my hair for three weeks, much to James's disapproval. I wanted to see if it would start to clean itself, but it didn't get that far."
Filming the storyline must have been very exhausting for you?
"It's physically draining on your body to use that amount of energy all the time. And I've only touched on post-partum psychosis – those poor people who go through it for real..."
It must have been mentally draining, too?
"Of course, but for all the stress involved, there have been moments to lighten the mood. Many of those provided by the babies playing little Arthur. Sixteen have been licensed for the role because, by law, infants can only be on set for five hours a day.
"We've had a few baby farts during scenes! They do make you giggle – and it is important to have a little giggle.
What's it like having babies on set?
"They are lovely. We've had them since they were three weeks' old, and because they were strapped to my chest for quite a long time, they know my smell and they've all got used to me. I love having them around; they make me broody. I can tell them apart and I know all their names."
You've received many messages of praise for your portrayal of this mental illness, so you must feel proud that all your work has paid off?
"It's a huge relief; this was a subject that I knew absolutely nothing about and I feel overwhelmed by all the praise. A lot of people who suffer with mental illness have said 'That looks like me on the telly.' That's heartbreaking to hear, and I just hope that out of this, more people are aware of post-partum psychosis and mental illness in general."
We think it could be a worthy winner this year's British Soap Awards, although you have a bit of a reputation for avoiding social events don't' you?
"Well, I won't be counting down the days to the big night as I'd much prefer to be at home, watching TV or re-upholstering old chairs, which I love doing. I mean, it's nice to win, and the fact that people have picked up the phone for you is always lovely, but these events frighten the life out of me!
"I just hope that we can help people through this storyline. I don't want to sound ungrateful, but that would mean a lot more to me than getting an award."
For more information on post-partum psychosis, visit www.mind.org.uk (opens in new tab)
Get the latest updates, reviews and unmissable series to watch and more!
Thank you for signing up to Whattowatch. You will receive a verification email shortly.
There was a problem. Please refresh the page and try again.