EastEnders' Ross Kemp: 'Grant hasn't changed. There's lots of suppressed violence and lots of tears'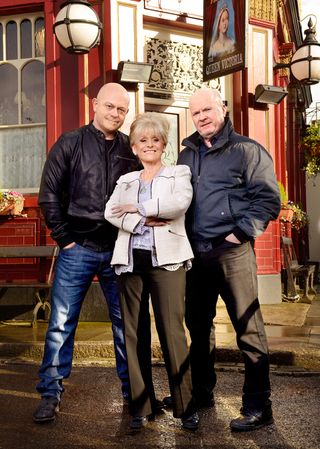 (Image credit: BBC/Kieron McCarron)
His work as a documentary-maker has taken him all over the world, but it's with the fictional London Borough of Walford, E20, that many will always associate Ross Kemp (opens in new tab).
Grant Mitchell remains one of EastEnders' most popular characters and later this week the hard man with a soft centre makes a brief comeback after 10 years away.
But Grant's return is also tinged with sadness, as it coincides with the exit of another EastEnders (opens in new tab) icon, Grant and Phil's beloved mum, Peggy, who, this week, loses her fight with cancer.
As we get set for a week of high emotion, Ross opens up about his return, and gives TV Times (opens in new tab) a taste of things to come…
How did your return come about?
"Barbara Windsor approached me to say that she was leaving. She was on holiday, as was I, and she asked if I'd come back for it. I had to check the dates because, with the nature of what I do now, I'm out of the country a lot. It all worked, so I thought 'Why not?'"
What was your first day back on set like?
"A cross between déja vu, a dream and the first day back in Sixth Form at school. So a mixture of lots of things!"
How did it feel being on set again?
"The most overwhelming thing was actually how little it had changed. It was great to see lots of faces that I recognised and knew. There seemed to be a lot of people happy to see Grant back!"
How did you feel about playing Grant again, after such a long absence from the soap?
"There's always the concern about if you can do it again. I've been doing something very, very different to acting for the last 10 years, so there was a natural concern, maybe even a fear of letting people down.
"But with the help of Steve [McFadden, who plays Phil], Tish [Letitia Dean, AKA Sharon] and Barbara – the main people I worked with – it was great. We have a lot of history together and a lot of respect for each other."
What was it like working with them again?
"It was great! They've always been a huge part of Grant's storylines over the years. There's a lot of respect between us. I think Steve has been the best actor in soap for the last 30 odd years.
"I love Adam Woodyatt [Ian Beale] dearly, but Steve's storylines have been so painful. He's very realistic in the way that he acts. He deserves credit for that."
How did you react when you read your scripts for the first time?
"I just went 'Oh my god; all those lines!' It was weird to go back to line-learning. Grant hasn't changed. There's lots of suppressed violence and lots of tears. Maybe even some unsuppressed violence. There's lot of raging, crying and slamming of doors…"
Why do you think the Mitchell brothers such a good on-screen partnership?
"I guess we probably look the part, so good casting. We're two actors that get on with each other and work together to build a family. And we have one of the most loved actresses in the country as our mother.
"I think people have a natural affinity to brothers and siblings. These are two tough brothers who fight on behalf of their mother and family reputation."
What's your favourite storyline of all time?
"There are so many! It has to be Tiffany-gate or Sharon-gate, I guess. I was working with great actors and it generated a lot of viewers. I also loved it when the Mitchell brothers got to go abroad. There was a very funny one written by Tony Jordan where they thought they were in France when they weren't. I like things like that."
There's a huge moment for EastEnders next week, when Peggy dies. Why do you think she has become such a hit with viewers?
"Barbara Windsor is so iconic. And Peggy is a matriarch; a typical East End mum. The Mitchells are this east London, working class, slightly dodgy family. No matter what school you went to, there were always brothers who were bruisers, and the Mitchells are the bruisers."
Do you have a favourite Peggy and Grant scene of all time?
"There was one when Peggy had to hit me, and I had to hit her back. I hated the idea that Grant would hit his mum. I only slightly tapped Barbara, but she went back like she'd been hit by Mike Tyson and John Wayne at the same time. That was always funny.
"And I love all the tender and loving stuff – 'my boys' – things like that. It was very emotional shooting the last scenes because we knew that Barbara wasn't coming back.
"There's a nice scene where Peggy comes out of the pub, says 'goodbye' to it, puts her arms through Phil and Grant's and we walk off through the square. That was nice to film."
Your documentary-making has taken you all over the world. What's the weirdest place you've been recognised?
"A place called Lyari [in Karachi, Pakistan], which is a no-go zone. I'd just been shot at by the police who saw me with activists on a roof of a building. I escaped and got down, and then a woman stopped me and went 'You're Grant Mitchell, aren't you?!'"
What's coming up for your next?
"In June-July, I've got a Syria and Iraq special going out, and it's very revealing. It's on the front line against ISIS. It's a 90-minute film and probably the best documentary I've made."
Would you consider a return to EastEnders in the future?
"There's no reason why not. I've always said, 'Never say never…'"
Get the What to Watch Newsletter
The latest updates, reviews and unmissable series to watch and more!