Ex-EastEnders star David Witts, aka Joey Branning, hits the West End in Wicked!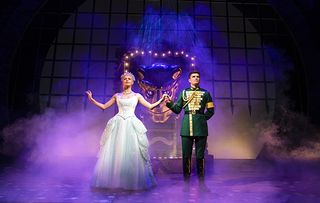 (Image credit: Darren Bell)
Former EastEnders star David Witts – remember him as Joey Branning – tells us about his West End theatre debut!
We've missed David Witts since Joey Branning - eldest son of Derek and sister of Alice - left Albert Square back in 2013. The door was left open for a return - but right now, David is busy in his brilliant new stage role…
What's the story?
"After three amazing years living and working in Los Angeles, I am excited to be getting back on stage again," David told Soaplife.  "I  have come home to make my West End debut in the incredible musical Wicked - the untold story of the Witches of Oz!"
What's happening in EastEnders? See the latest soap storylines
Ex-EastEnder David Witts chats to Soaplife about starring in the hit musical Wicked!
Soaplife: Wow, congratulations David!
David Witts: "I know! I am so excited I'm playing the character of Fiyero. It's interesting to be taking over a role that quite a few actors have played before. It's good to be able to draw on what other actors have done but also put my own interpretation on it. I feel really incredibly lucky to be in this position."
S: Did you see the show as a punter?
DW: "Yes, and I loved it. The energy Wicked gives off is really infectious for the audience and it's thrilling knowing you're part of that and helping to create it. When I went to see Wicked, I remember leaving the theatre feeling really happy and inspired."
S: You're best known to us as Eastenders' Joey Branning, of course. Are musicals something new for you?
DW: "Not at all. I started out intending to do musical theatre and trained with the National Youth Music Theatre but as so often happens in life, I got side tracked and went into TV - something I never imagined myself doing."
David Witts as Joey Banning and Jasmyn Banks as Alice Branning in EastEnders
S: You don't regret it, though?
DW: "Not at all. I had a wonderful time on Eastenders and was lucky enough to win a couple of awards for playing Joey. But, after 18 months, I just thought it was the right time for me to go. For me, being an actor doesn't mean just playing one part. When I left in 2013, I went back to the theatre briefly. I did Hairspray at the Curve Theatre in Leicester and then I went out to Los Angeles."
S: Did you like it there?
DW: "London is home. Now I'm appearing in a West End show – and for a whole year. My 14-year-old self would never have believed it!"
Get the latest updates, reviews and unmissable series to watch and more!
Thank you for signing up to Whattowatch. You will receive a verification email shortly.
There was a problem. Please refresh the page and try again.