Ex EastEnders star James Alexandrou stars in new stage role!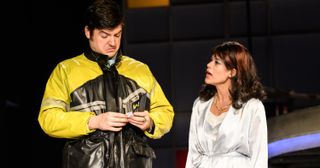 (Image credit: Jane Hobson/REX/Shutterstock)
Former EastEnders star James Alexandrou told Soaplife about his new role in comedy-drama stage play The Knowledge…
James Alexandrou - who played Martin Fowler in EastEnders from 1996-2007 - chatted to Soaplife about starring as a sexist cab driver alongside Celine Abrahams as Brenda, on stage in London.
Here James Alexandrou tells us more...
Soaplife: What are you up to at the moment, James?
James Alexandrou: "I'm appearing in a play called The Knowledge at the Charing Cross Theatre in London."
S: What's it about?
JA: "It's a comedy-drama about a group of men doing the training, known as The Knowledge, required to become a Black Cab driver. It was originally a TV film made in 1979 and it's something of a classic. I'd never seen it before I became involved with this production as it was a bit before my time. But I've caught up with it and it really is an iconic piece of film."
S: Who do you play?
JA: "A character called Gordon Weller. He's a sexist and ignorant so-and-so most of the time. Think about the male characters in cop drama Life On Mars and you get the picture. He cheats on his wife Brenda and he's really not very nice – but he's great to play."
S: The wonderful Maureen Lipman is involved, isn't she?
JA: "Yes. She's directing it and she's fantastic. The play is in her heart and soul because it was written by her husband, the late Jack Rosenthal, and she played Gordon's long-suffering wife, Val, in the film."
S: Is there extra pressure because of Maureen's input?
JA: "There's maybe a bit because she is who she is and she knows the play so well. But I want to do my absolute best whenever I'm involved in any production."
S: Would you have liked to have done the Knowledge for real?
JA: "Not at all. In preparation for this role, I went to a talk given for people who are hoping to do it and it's so pressurised. It takes about four years and you actually have to pay to do it. You don't earn anything during that time either. My twin sister started doing it some time ago, but she gave up after a year. It was such hard going."
S: Do you ever watch EastEnders these days?
JA: "Occasionally, if I happen to be round at my mum and dad's. I also tune in from time to time to see how Jimmy Bye is doing playing my character, Martin Fowler. I think he's doing great."
S: Any regrets about leaving the soap?
JA: "Not really. They asked me back when they wanted to bring Martin back but I said 'No'. It was the wrong time. I'm really pleased they found someone as good as Jimmy, though. I was attached to Martin and I'm happy he's in safe hands."
Get the latest updates, reviews and unmissable series to watch and more!
Thank you for signing up to Whattowatch. You will receive a verification email shortly.
There was a problem. Please refresh the page and try again.