Ex EastEnders star Louisa Lytton says Grease is the word... for now!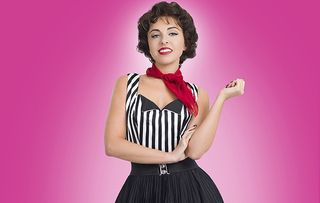 Catch up with Louisa Lytton's latest exploits and find out if she'd ever consider a return to Albert Square
Former EastEnders favourite Louisa Lytton chatted to Soaplife about her stage role in Grease and those rumours about a return to Albert Square…
So Louisa, we hear you're treading the boards… "I'm playing Rizzo in a touring production of Grease The Musical until the end of December. We've been on the road since March!"
That sounds like one long tour! "Yes, it is, but it's great. None of us knew each other before we started rehearsals. But by the time we opened three or four weeks later, it was like we'd been friends for ever. That's what it's like, though. You get to know each other very quickly and it's very intense."
Rizzo's a bit of a bad girl… Are you enjoying that? "Loving it! I usually play girl-next-door types, so it's great fun to play such a feisty, 'out there' character. But there's a vulnerability to her, too. Rizzo is quite troubled deep down."
Does it bother you being away from home for so long? "It's OK as I'm single at the moment. But I do miss my friends and my family – and I especially miss not being able to go to events like my dad's 50th birthday celebrations. I get a day off every week, but often it's not a proper rest because we're travelling to the next place on the tour. I'm not complaining, though, because I'm having a good time."
Is there any truth in the rumours we've heard about you returning to EastEnders to play Ruby Allen again? "I don't know how that rumour started because I've never been asked to go back. I'd certainly consider it. It's been 11 years since I left as a 16-year-old, so I think it would be interesting to see what Ruby's like now she's a woman in her late 20s. I don't know how they'd bring her back, though. She went off in a cab so she could easily return. But why would she?"
Well, Ruby's old bestie, Stacey (Lacey Turner), is still in the Square… "True, but Stacey's gone through so many changes over the years. Would she really have kept in contact with her teenage best friend? And has Ruby kept in touch with her? We'll have to wait and see what happens, but there's no way I could go back this year. I'm touring until New Year's Eve and then there's talk of Grease The Musical going into the West End!"
Get the What to Watch Newsletter
The latest updates, reviews and unmissable series to watch and more!