Nitin Ganatra: Leaving EastEnders is 'a risk and a gamble, but I have to follow my heart'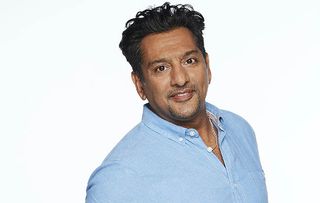 (Image credit: BBC/Nicky Johnston)
As Masood bids farewell to Albert Square on-screen, Nitin Ganatra reflects on his time in EastEnders…and suggests to Soaplife he may well return one day!
EastEnders' postie Masood Ahmed has decided it's time to leave Walford in search of new adventure. But Nitin Ganatra hints to Soaplife that he may not be gone for good.
What made you decide to leave after nine years in the show? "Similar reasons to Masood, really. He wants to find himself. There is real parallel between our journeys. There's still so much I want to do in my acting career. I love creating characters and I want to do more of that. It's a risk and a gamble, but I have to follow my heart."
Will you miss the regular salary? "Absolutely. It's hard when you live in London and you have a mortgage and a family to support. My mum and dad said: 'Are you mad? Stupid boy!' My mum's very upset about it. She's like, 'You have a family! This is a good job' and I said to her, 'You know what. It will be all right. I worked before I joined EastEnders and I expect the same to happen in abundance'."
So have you got some work lined up? "I've just been to Corfu to do a show for Channel Five called Corfu Cookery School. That's a working title so it might change. I'm not very good at celebrity reality shows as I don't fancy eating kangaroo testicles or having a breakdown in a house, but this was lovely because it was about learning how Corfu's culture and history has influenced its food."
Did you get to do anything unusual? "I got to milk a goat and do some great cooking. Next, I'm off to Singapore to teach storytelling for two weeks, then I have a small role in a new Channel 4 drama, which I'm not allowed to talk about. I predict it will do well, though."
Is there anything you want to achieve personally? "I want to draw and paint. Art was always my first passion. I was a portrait painter and I want to do some canvasses. I haven't painted a picture in 10 years and I have this box of oil paints that were given to me as a present a decade ago. I'm now going to use them."
What will you miss most about EastEnders? "I'll miss the intensity of the place. Everybody works extremely hard. I'll miss doing 15 scenes a day and thinking 'Oh my God! How am I going to do this?' But you do. We also had a lot of fun there. I made some really good friends."
What's been the highlight of your time at EastEnders? "I enjoyed it when Masood started drinking and gambling. He was always the hen-pecked husband, but then they added another element to him. The stillbirth story with Shabnam [Rakhee Thakrar] and Kush Kazemi [Davood Ghadami] was incredible, too. It touched a lot of people and brought out the best in all of us."
What do you think Masood will do next? "I like to think he'll travel the world and have amazing experiences, whether they be spiritual or sexual. He'll come back a different person."
So he will come back? "There's more to discover about Masood and they've left the door open for me. The producer said 'Whenever you're ready, come back…'."
EastEnders, BBC1
Get the latest updates, reviews and unmissable series to watch and more!
Thank you for signing up to Whattowatch. You will receive a verification email shortly.
There was a problem. Please refresh the page and try again.