Shane Richie: 'My job's not tough, is it? Tough is digging roads'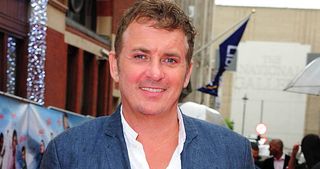 (Image credit: PA Archive/Press Association Ima)
Life's tough for Alfie Moon but EastEnders star Shane Richie – who plays him – is all smiles about his life, as he tells Soaplife...
What made you decide to host Decimate?
"With Kat [Jessie Wallace] and Alfie not being in the Queen Vic any more, I was freed up and had some time. I went and had a holiday with Christie and the kids, did some writing [a panto], played some gigs with my band The Prelude and filmed this new show."
Contestants are in with a chance to win big money…
"Three contestants start with £20,000, which for an afternoon show is a lot of money! They have to answer questions correctly to keep the cash. With every one they get wrong, the money goes down. I recorded 25 shows in five days… we filmed it at the studios where they do The X Factor."
Are you any good at quizzes yourself?
"No! And this one is hard. I'm no brain box and they're answering questions ranging from One Direction to the Roman Empire. I get asked to do Pointless, but I'd just embarrass myself. Me and Christie [Shane's wife] also get invited to do Mr & Mrs but, well, we'd have to reveal all our secrets!"
You turned 50 last year – was that tough?
"It was in March and I was in a bad mood. I'd had a row with Christie and she said we were going to dinner. I said I wasn't going and she said, 'Don't then', but she knew that if the babysitter was coming round, I'd want to get out of the house. I turned up at this restaurant and 50 of my mates were there. It was great."
What's the hardest job you've ever done?
"That's definitely being a dad. Professionally – well, my job's not tough, is it? Tough is digging roads. My dad was a bin man and my mum was a cleaner. That's tough. All I do is stand there with someone talking down my ear, saying, 'You got it wrong Shane, say it again'."
Do you mind when people call you Alfie in the street?
"I used to, but when I hit 50 I thought, 'Wow, I've made it to 50, call me whatever the hell you want'."
We hear you are doing some stand up comedy, too?
"Yeah, I've started turning up unannounced and doing gigs in comedy clubs. It's something I miss. I miss the adrenaline and the buzz of going on and just freewheeling. Hopefully, later this year, I may do a tour. I say this every year… it's just a matter of finding the time. My last tour was 15 years ago."
What are the jokes you tell about?
"Being 50, what it's like having young children, having a famous son… EastEnders. My life really."
Decimate is coming soon to BBC1 daytime.
EastEnders/Decimate, BBC1. Click here for dates and times.
Get the What to Watch Newsletter
The latest updates, reviews and unmissable series to watch and more!