EastEnders' Zack Morris: I had no words to describe my Soap Awards nomination! (VIDEO)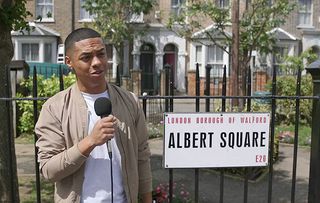 The actor who plays bad boy Keegan Baker in the BBC1 soap reflects on earning a nomination as Best Newcomer
EastEnders star Zack Morris was genuinely stunned when he heard he'd received a British Soap Awards nomination.
Zack only joined EastEnders as mouthy bully Keegan Baker in January, so it was a bit of a shock to hear about being honoured in the Best Newcomer category.
"I literally I didn't have any words to describe it," he told What's on TV. "It was so weird. I haven't been in the show that long and I didn't expect it at all. The person who actually told me was Natalie Cassidy (Sonya), 'cause I was sitting on the sofa and she said 'You're up for a nomination!'
"I went, 'Who is?'
"'You!' 'For what?'"
Zack said the role has had a big impact on his life: "It's changed quite a bit to be honest, just being recognised in the street, people coming up to me and asking me for pictures. It's really weird, really weird to get your head around. Obviously I live in the same area I've lived in all my life and I used to go there like it's nothing and now people stop me... 'Can I get a picture?' It's cool, it's nice to be recognised for my work."
VOTE here in the British Soap Awards' public categories
Zack said the experience of acting in EastEnders has been a steep learning curve. "[It's] such a quick pace that we work, it's like nothing I've been used to before in my life. You've got to make sure you know your stuff. You do your rehearsal, you do your stuff, then you go home. I remember thinking, 'Is that it?' It kind of puts you in the mind-set that you've got to be ready as soon as you walk on set."
The British Soap Awards will be screened live on ITV on Saturday, June 3rd.
Get the latest updates, reviews and unmissable series to watch and more!
Thank you for signing up to Whattowatch. You will receive a verification email shortly.
There was a problem. Please refresh the page and try again.