Charity kisses a girl...again, as Emmerdale's Emma Atkins reveals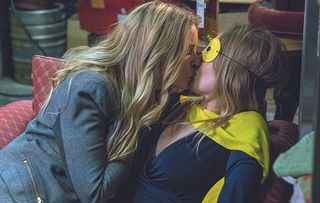 Charity Dingle's new attraction is Vanessa Woodfield! What's Charity playing at now? Emma Atkins reveals all to Soaplife…
Charity has a new love interest – and it's village vet Vanessa Woodfield! Emmerdale's Emma Atkins tells Soaplife how they come to, er, bump lips!
What's the story?
Remember Charity Dingle's affair with her sister-in-law and vet Zoe Tate? Well, having salivated in Tom Waterhouse's direction for a bit, Charity now turns her attentions to vet Vanessa Woodfield! The pair enjoy a steamy clinch after getting locked in the cellar at The Woolpack during a village event. "Charity toys with Vanessa," Emma Atkins told Soaplife. "She's the one who makes the move. She takes advantage as they are both drunk.' Well, that'll give the gossips something to enjoy with their coffee!"
What's happening in Emmerdale? See the latest soap storylines
Emma Atkins' Soaplife interview
Soaplife: What did you think when you heard Charity was to kiss Vanessa?
Emma Atkins: "I was quite shocked, but it was an exciting surprise. I haven't worked closely with Michelle Hardwick [who plays Vanessa] before. She and Charity haven't really had much to do with each other. It's extremely left field, which I like. Charity likes to shock and the connection with Frank [Vanessa's dad and Charity's ex] will be exciting for her. There's a lot of scope for provocation!"
S: How do they end up in the cellar?
EA: "The cellar door is broken. Charity goes downstairs to change a barrel and Vanessa comes down there drunk. The door slams and they are trapped. There is loud music playing upstairs, so nobody can hear them call for help."
S: What do they talk about?
EA: "There is a lot of interesting dialogue because they are poles apart. They don't like each other and there's a lot of tension. They wind each other up."
S: How does the kiss happen?
EA: "Charity enjoys the moment. They are arguing and Vanessa is telling Charity that she's mean. She asks her how she can live with herself. That eats away at Charity, but she doesn't want to let it show. She gets up close and personal with Vanessa, to unnerve her. They are sitting on this armchair together and Charity catches Vanessa off-guard. She kisses her and she responds willingly and suddenly they are in a heated embrace!"
S: Will Charity want it to progress?
EA: "Well, Charity is at a loose end. She has no man to keep her occupied. She'd like to be going around in a big fast car with lots of money, but she is running a pub. She is seizing the moment and making life less boring and she really doesn't care whose feathers she ruffles along the way!"
Emmerdale, ITV
Get the latest updates, reviews and unmissable series to watch and more!
Thank you for signing up to Whattowatch. You will receive a verification email shortly.
There was a problem. Please refresh the page and try again.