Emmerdale's Danny Miller: 'Working at the home of James Bond is what dreams are made of!' (VIDEO)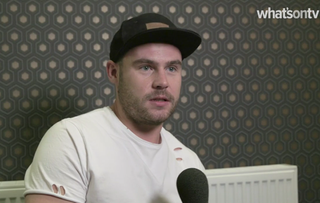 Emmerdale's Danny Miller, who plays Aaron, talks about the huge stunt in upcoming nail-biting episodes and his relationship with co-star Ryan Hawley, who plays Robert.
Emmerdale's #supersoapweek features four storylines coming to a massive climax and volatile lovers Robert and Aaron are right in the thick of it.
Fans will be on the edge of their seats next week as some of the most ambitious and dramatic scenes ever to unfold in soapland play out, including events that begin with Robert trying to propose to Aaron.
What's On TV can't disclose what happens, but we can say that some of the scenes were filmed at Pinewood Studios, famously the home to the James Bond and Star Wars films.
The actor said the experience took his breath away: "Working in that environment is what dreams are made of. You walk around and see the Bond stage, Star Wars…it's just incredible to be a part of it."
One villager is going to die in a week that's crammed with action, disaster and some incredibly poignant scenes and Danny revealed how nerve-wracking filming his dramatic scenes were.
Robert and Aaron will be seen battling on the edge of a perilous cliff top with Chrissie's twisted trouble-making son Lachlan, but is someone about to plunge to their death?
"What was amazing was we were on the top of this 60-foot drop above water with jagged edges and rocks and as you looked over it, it was really daunting", he explained. "We had wires on us tied to about 15 different things that didn't move so we were safe."
The actors may have been safe, but are Aaron and Robert? After all we know is one much loved character is poised to meet a grisly end.
Fans of Robron will be devastated if one of them were to perish, especially as the week starts with Robert preparing to pop the question.
Danny said: "The episode opens with Robert with a ring and it's very obvious he's planning to propose. It's a question of when and how he's going to do it. In typical Robert and Aaron style nothing is that easy!"
Filming was intense and the days long, but Danny was happy to hang out with his co-star and on-screen lover Ryan Hawley, who plays Robert.
"We have a great relationship and a similar sense of humour that's quite dry, that's part of the reason we get on so well and can have a laugh on set during the long days. We know when to turn it on and when to shut up and get the work done!"
Watch the six episodes in which four storylines, all covering the same 24-hour period, collide with cataclysmic results on Emmerdale from Monday, October 17.
Get the latest updates, reviews and unmissable series to watch and more!
Thank you for signing up to Whattowatch. You will receive a verification email shortly.
There was a problem. Please refresh the page and try again.