Emmerdale Charlotte Bellamy: 'Laurel's heart has always been with Ashley'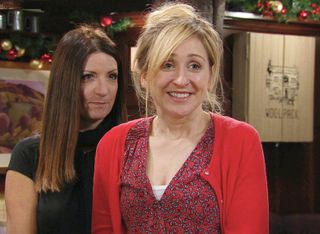 It turns out Laurel's never stopped loving Ashley and an emotional reunion may well be on the cards, says Emmerdale's Charlotte Bellamy (opens in new tab)…
So, Laurel is over Marlon?
"Marlon [Mark Charnock (opens in new tab)] let Laurel go, so she had no choice. He couldn't really deal with the drinking and deceit. He tried. But, in the end, he couldn't forgive her. They're friends and they've moved on."
What went wrong with her marriage to Ashley?
"She was a young woman and he is older than her and she was like 'I'm in love with this man, Marlon, and he's funny and so different to Ashley!' But all the way through, Ashley [John Middleton (opens in new tab)] has always been there for her."
He was great when she was in the grip of alcoholism, wasn't he?
"Yes, when things got really tough, Ashley was there for her. He never judged her, not once. That's true love. I don't think Ashley ever fell out of love with Laurel and she probably didn't with him. Her heart's always been with Ashley. But I don't think she has any idea what she might be taking on."
Does Laurel suspect Ashley is ill?
"No, she has no idea. I don't think you'd notice the dementia in those early stages unless you lived with somebody. She doesn't know about the notebook, either, which is how he copes with everyday life."
What about Harriet?
"Poor Harriet [Katherine Dow Blyton (opens in new tab)]. Ashley likes Harriet but - and Laurel doesn't know this - he doesn't want to put the burden of his illness on her. It just doesn't feel right. She's fine for his girlfriend at the moment, but we're talking about something much bigger now. He has a history with Laurel. However, Laurel doesn't want Ashley to split up with Harriet and she'll go out of her way to try and keep them together."
What do you think of Laurel wanting to be with Ashley again?
"Falling back into his arms is the natural thing to do. The viewers seem to want it. I feel quite emotional about the whole thing."
How does Ashley's dementia compare to other emotional stories Laurel has had?
"The death of their baby was the hardest, as he was the same age as my second child at the time. Laurel's alcoholism was tough for different reasons. This story has a very big arc and, sadly, I'm losing John at the end of it."
Emmerdale (opens in new tab), ITV.
Thank you for signing up to Whattowatch. You will receive a verification email shortly.
There was a problem. Please refresh the page and try again.