Emmerdale's Amy Walsh: 'Tracy proposes – and gets a custard pie in her face!'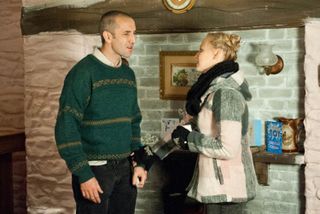 Emmerdale (opens in new tab)'s Amy Walsh tells Soaplife how Tracy surprises Sam with a proposal…
Soft Sam Dingle has taken Tracy back, even though she couldn't be trusted to post a letter. Val (Charlie Hardwick (opens in new tab)) thinks they make a lovely couple… as does Tracy, so she tests Sam out with a mock proposal.
"Tracy's constantly trying to see how far she can get her feet under the table. Sam kind of brushes it off and she doesn't appreciate that," says Amy (opens in new tab).
Why is Tracy back in the village?
"The sex chat company Tracy worked for closed down and her ex-boyfriend turned on her because she wasn't bringing in any money. She thought, 'Where can I go?' And went to Sam [James Hooton (opens in new tab)]. In him, she found something she never had before from anyone - not even her parents. He was kind to her and she knows she can play on his soft side."
So Tracy is using Sam?
"She genuinely likes him. She is manipulative and she does take advantage of Sam's better nature, but she's not malicious. She likes to be with someone where she can pull the strings. She likes his company and she feels safe with him."
Is she going to rip him off again?
"I don't think she ever intended to get him into trouble. She thought they were both having fun. She was very apologetic when she first came back, and she does try to repay the Dingles some of the money. But It's the way she lives. Tracy's an opportunist."
Why does she tell Sam they should get married?
"I don't think she's considering marrying him right now. She's half joking, but she's constantly checking and testing to see if she's got the upper hand. However, when she says it, she ends up getting a big custard pie in her face as Sam's very perturbed by the idea."
Would she marry Sam?
"I wouldn't put it past her! I think there is love and care there. I find it hard to believe she's come back and not moved onto someone else she knows has money."
What is her relationship history like?
"It's been colourful. Her ex, Liam, has beaten her up and I'm guessing she's gone from one bad boy to the next. It stems from her upbringing. Her dad's currently in prison."
What's in store for Tracy?
"It's not going to be plain sailing with Sam. There are complications and he'll start seeing through her lies and sneakiness."
Emmerdale (opens in new tab), ITV. Click here (opens in new tab) for dates and times.
Get the latest updates, reviews and unmissable series to watch and more!
Thank you for signing up to Whattowatch. You will receive a verification email shortly.
There was a problem. Please refresh the page and try again.