Emmerdale's Eden Taylor Draper explains how Belle flips when she sees Bailey out with his wife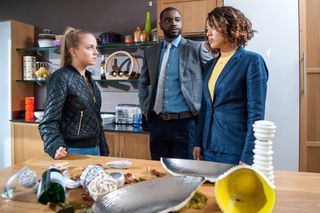 (Image credit: Andrew Boyce)
Being the twisted friend that he is, Lachlan trashes Dr Bailey's house – leaving Belle in a lot of trouble in Emmerdale… Eden Taylor Draper tells Soaplife all about it.
Why is Belle still seeing the cheating doctor?
"When she first fell for him, she didn't realise he was married, but now the feelings have grown to a point where she can't deny them. At first, I think she was impressed by his status and money, but now they have connected on an emotional level. She believes that they're in love and will work through their ups and downs."
Which is why she won't date Lachlan, then?
"Lachlan [Thomas Atkinson] is in love with her and they've been friends for years, but he's a bit odd. He keeps intervening, but every time he tries to help Belle, he makes things worse."
And there's big, bad brother Cain…
"She thinks it's all talk with Cain [Jeff Hordley] and stands up to him because she thinks Dr Bailey is worth fighting for."
What happens when Belle sees him out with his wife?
"She takes Lisa for a meal at this restaurant where Bailey [Micah Balfour] took her. It's their special place and she's horrified when she sees him there with his wife, Angie. She flips and it turns into a bit of a situation."
What does Bailey say?
"He says that Angie [Nina Toussaint-White] forced him to go to that particular restaurant and she believes him. She really thinks he is a good guy."
Lachlan doesn't, though. Why does Lachlan trash the doctor's house?
"There's a bit of a bombshell that comes earlier and it angers Lachlan so much, he goes barging into the house and goes mad."
And he finds something…
"Lachlan shows Belle a booking for a Christmas trip, which suggests Bailey sees his future with Angie. At this point, Belle is so blinded by love, she doesn't want to believe Lachlan, but it is a bit of a turning point for her."
What happens when Bailey gets home?
"Belle and Lachlan are in the house, which has been trashed. It all gets very messy as Belle decides to help Lachlan out, which leads to another situation…"
Emmerdale, ITV
Get the What to Watch Newsletter
The latest updates, reviews and unmissable series to watch and more!