Emmerdale's Emma Atkins: 'I've played a mum for so long... Now I know what it is to be one'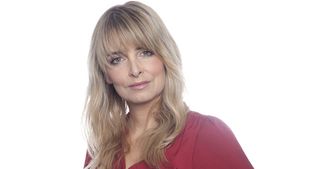 Emma Atkins talks to Soaplife about her return as Emmerdale's best bad girl and how her life has changed since the arrival of baby Albert...
Were you nervous about coming back after your maternity leave?

"I honestly thought, 'Do I even know how to act any more?' I'd been away for a year and I was scared that, suddenly, I wouldn't get Charity and everyone would go, 'What has she done? She really hasn't got it any more.' But I needn't have worried. I know Charity so well; it was like putting on a pair of socks. It came back really quickly."
Was it hard to leave Albert?
"I've loved being at home with Albert. I read a lot to him and he is now getting to the point where he really appreciates it. But it was also refreshing to come back. I love my job and I had missed it. I thought it would be horrendous to leave him at home, but it isn't. Everybody needs a work/life balance. I'm lucky because I had such a luxurious year off.
"I miss him, but I'm absolutely fine with it. I know I'm going to see him at the end of each day and I can't wait to hug the bones of him."
Is it nice to have a bit of 'me' time at work?
"It is. We were joking that there are some mums here who have admitted to coming in a few hours earlier than they've needed to, for a bit of peace and quiet. I can understand that. Babies want constant attention. I can't learn lines when I'm looking after Albert. It's a complete juggling act."
Has motherhood changed you?
"It has. It's hard to explain, but I feel freer now. I have come back with a new energy. I have played a mum for a long time, but now I really understand what it is to be one. You don't realise until it happens to you, how fiercely protective you become of your child. It also makes me think that Charity is shameless because she sold her own son. I was quite fearless before I had Albert, but now I feel even less afraid."
Has Albert been on set yet?
"He's been in a few times and all the girls go crazy for him because he's so cute."
Did you stay in touch with your co-stars while you were off?
"I was talking to Charley Webb [who plays Debbie Dingle] on WhatsApp literally every five seconds. It would be like 'What are you doing?' 'Are you all right?' 'Yeah I'm fine' and then I would think, 'This is ridiculous, why don't we just pick up the phone!' I have got some really firm friends at Emmerdale and what's nice about coming back is that I'm getting to know people I'd not really worked with before, such as Louise Marwood [Chrissie White]."
Did you worry about getting your shape back after giving birth?
"No. It's been a year and I haven't really been to the gym or done any exercise, but I want to get fitter because it will be much easier for jumping in and out of stolen cars as Charity."
Do you want more kids?
"Yes, definitely. But I'm 41 now and you can never take it for granted that you will get pregnant. It might be that I can't, but you can never say never."
Emmerdale, ITV
Get the What to Watch Newsletter
The latest updates, reviews and unmissable series to watch and more!