Emmerdale's Amy Walsh reveals she's 'massively sad' over Tracy and David Metcalfe split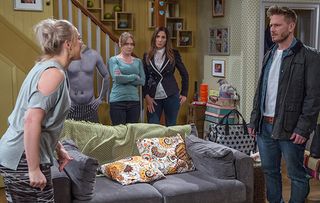 Emmerdale actress Amy Walsh talks about Tracy and David Metcalfe's marriage break up… And whether Tracy will find out about David and Leyla's betrayal!
Tracy Metcalfe is on the brink of finding out about hubby David's secret fling with her bezzy mate Leyla Harding, Emmerdale's Amy Walsh has revealed to Soaplife.
What's the story?
Tracy and David Metcalfe's marriage fell apart after she confessed that, years ago, when she was young and desperate, she had worked as a prostitute. David couldn't look her in the eye and she moved out.
"Then Tracy goes to talk to David, but sees another woman's things in their house," actress Amy Walsh told Soaplife.
"When she tells David she knows he 'slept with his ex' [she means Priya], he thinks she's found out about Leyla…"
What's happening in Emmerdale? See the latest soap storylines
Amy Walsh tells all to Soaplife about Tracy and David's mega bust up
Soaplife: Does Tracy know that Priya is staying with David?
Amy Walsh: "No. Tracy goes round to make amends and sees shoes and two wine glasses and then, when she looks through the window, she sees David comforting Priya, who is suspected of hurting her niece."
S: How will Tracy react if she finds out about David and Leyla?
AW: "She'll be really angry because he has made her feel like she is the dirty one and has something to be ashamed of. Nobody turns to prostitution unless they have to and it shows how desperate Tracy was. She was a victim but David believes she chose that path."
S: Would you like them to reconcile?
AW: "Yes, but him sleeping with Leyla is massive thing to forgive. It's not just the cheating, it's all the lies and the fact that Leyla and Tracy were friends. The level of deceit is awful."
S: Do you think there is anything between Leyla and David?
AW: "You could see before she left that there was this little thing between them. She said she was still in love with him and he gave her this odd look. It is a big possibility."
S: What do you think Tracy wants?
AW: "She knows that David still loves her and that he wants her back, but will that be enough? The trouble is, he doesn't beg or knock down her door, he just gets on with his life."
S: Are you sad about their split?
AW: "Massively. I am sad that I won't be working so closely with Matthew Wolfenden. It's funny because he didn't even know his character had slept with Leyla until after Roxy [Shahidi], who plays her, went off on maternity leave!"
Emmerdale continues on ITV.
Get the latest updates, reviews and unmissable series to watch and more!
Thank you for signing up to Whattowatch. You will receive a verification email shortly.
There was a problem. Please refresh the page and try again.