Emmerdale star Danny Miller pays tribute to the man who inspired his charity!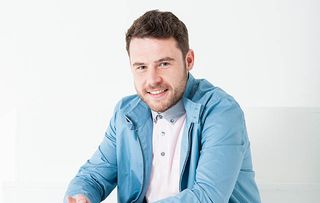 (Image credit: Andrew Boyce)
Actor Danny Miller - Aaron Dingle in Emmerdale - tells us about his charity Once Upon A Smile and pays a moving tribute to the producer who inspired it…
Emmerdale's Danny Miller has won several awards for his role as Aaron Dingle, plus he's half of Robron, soap's best-loved gay couple. But the thing Danny is most proud of is setting up Once Upon a Smile, a charity providing emotional and practical support to bereaved families after the death of a loved one.
What's the story?
"I co-founded the charity in 2011 with my best friend, Daniel Jillings," Danny told Soaplife. 'We had different reasons for doing it. Mine was mainly because I'd lost a close friend in Gavin Blyth, who was the producer of Emmerdale during my first couple of years there. He was such a guardian figure to me, the one who took Aaron down that path of struggling with his sexuality. To cut a long story short, I owed Gavin everything for giving me such a big break in this industry. He was diagnosed with cancer and tragically had just weeks to live."
What's happening in Emmerdale? See the latest soap stoylines
Emmerdale star Danny Miller's interview with Soaplife about the inspiration behind his charity…
Danny Miller as Aaron Dingle in Emmerdale
Soaplife: What gave you the idea for the charity?
Danny Miller: "I was in a hole of grief and disbelief at Gavin's funeral, but I did notice how distant the family seemed at such a dark hour. Subsequently I wanted to create something that would counter that - that would help families become united again, and support each other emotionally and practically after bereavement. Seven years on, here we are - helping well over 1000 families across the nation.'
S: How involved are you with the charity, Danny?
DM: "My involvement remains the same as it's always been. Right from the start, Daniel and I made a 'blood brothers' type agreement that we'd always be involved together and, if that wasn't possible, we'd both step away. But it will never happen. All the jobs I've done and accolades myself or the show has received are nothing compared to the pride I feel when I look at Once Upon a Smile. We are determined to make a difference and make our mark to be seen as the main source of long-term support for bereaved families."
S: How does Once Upon a Smile achieve this?
DM: "The charity stands in and supports families emotionally and practically during their time of bereavement, whether that be through a referral from a hospital, school or hospice or a self-referral via a family member and/or friend. There are so many ways we connect with referrals. All details are on the website, at www.onceuponasmile.org.uk. We tailor our support to the needs of the families who've lost someone - whether it be emotional support or practical things like paying a council tax bill, funeral costs, rent arrears or sending the family away for a respite break. Whatever it is, we're there for them."
S: How can people get involved?
DM: "By making donations via the website, fundraising for the charity and volunteering services for upcoming events - all of which are advertised on the website with ideas of how you can help. An hour of your time is invaluable for our future.
S: Is it hard not to become too emotionally involved?
DM: "In some ways, I have to distance myself from it and look at the bigger picture because I instinctively want to comfort each family or person referral. But that's just not possible. It's easier to look on from a distance and know the decisions made are enough to make a difference to a family individually. But whatever I can do to help, I make sure I sacrifice everything and anything to make it happen."
S: Do any of your Emmerdale cast mates become involved?
DM: "The Emmerdale cast are just like a family to me and also the charity. They know the work we do and the difference we make and a whole bunch of the cast always make a huge effort to attend The Grand Ball, year in year out. We always have at least 20 plus cast who join to support us and without them we wouldn't be where we are today."
Emmerdale continues on ITV.
Get the latest updates, reviews and unmissable series to watch and more!
Thank you for signing up to Whattowatch. You will receive a verification email shortly.
There was a problem. Please refresh the page and try again.