Emmerdale star Louisa Clein on 'difficult' Maya and Jacob kissing scenes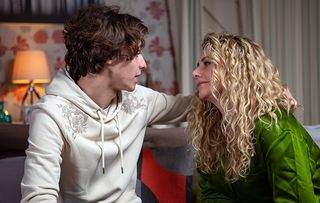 Teacher Maya is currently in a 'relationship' with her teenage pupil
Emmerdale star Louisa Clein has opened up about working with young co-star Joe-Warren Plant, and admitted that the kissing scenes they are required to do for Maya and Jacob's grooming storyline are "difficult."
Teacher Maya has manipulated pupil Jacob – who is also the son of her boyfriend David – into having a relationship with her.
In real life, actress Louisa is 39, while her co-star Joe-Warren Plant, who plays Jacob, is just 16.
Speaking of playing the characters' more intimate scenes, Louisa tells us: "It is difficult, but Joe-Warren Plant is a joy to work with and he's so mature for his age. He's been on the show for such a long time and has been working with adults since he was eight years old, so he's very happy around adults. You wouldn't necessarily pin him as 16 when you met him.
"Of course it's awkward, but the scriptwriters are very sensitive to that, as are the directors and producers. We're all very conscious of not making it (the scenes) sexually titillating. Any form of intimacy doesn't need to be sexy. It's about the implied emotional intimacy, which is the creepy bit in a way."
On-screen, Maya's partner David is still unaware that his girlfriend is sleeping with his son, and recently left the pair alone for a week so that he could attend a work event.
But Louisa has echoed comments made recently by Emmerdale producer Kate Brookes – who said the controversial storyline would have the "right outcome" – and suggested that Maya will eventually be exposed for her crimes, and get her commupance.
"It's got to be that way," adds Louisa. "And Barnardo's were very happy when we told them the way we were going to play the story through.
"I think they were nervous that it would be turned into a beautiful, romantic story - 'If only they were nearer the same age…' - but we were very clear that we want to tell the story that this is wrong and something that shouldn't be let go of. There needs to be some form of retribution."
Emmerdale continues on ITV.
Get the latest updates, reviews and unmissable series to watch and more!
Thank you for signing up to Whattowatch. You will receive a verification email shortly.
There was a problem. Please refresh the page and try again.