Emmerdale's Chris Chittell: 'Without Val, Pollard doesn't see any point in living'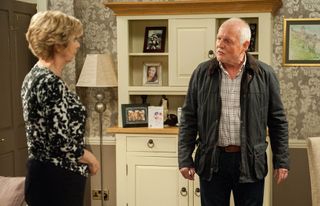 Eric's devastated by the loss of Val and he blames Diane for everything, Emmerdale's Chris Chittell tells Soaplife…
Poor Eric Pollard. Without Val he's lost, sad… and very angry. He blames Diane for Val's death and bans her from the funeral. But why?
"Diane left Val in the mirror maze and he sees that as unforgiveable," explains Chris. But it was Eric who had the idea of locking them both in the maze in the first place!
How hard has Val's death hit Pollard?
"Val [Charlie Hardwick] gave Pollard purpose in life for the first time ever and, for her to be removed in such a cruel fashion, is just heinous, it's unbearable. He's close to topping himself at the moment and he doesn't see any point in living."
What happens when Diane tries to help him?
"Diane [Elizabeth Estensen] thinks she's doing him a favour by tidying up. He had this cup with Val's lipstick imprint on it, as if she'd just taken a swig, and he cherished that. He'd look at it and focus on what he had with her, but Diane comes along and washes it up. How dare she!"
Why's he blaming Diane for Val's death?
"He has to vent his spleen at somebody and she gets it because she left Val in the maze. Pollard wasn't there, so he doesn't know what happened. If he starts to blame himself, because he locked her in the mirror maze in the first place, that would be a point of no return. He can't accept that. At the moment, it's everybody else's fault."
What happens with Val's funeral?
"Valerie had written down her wishes for that and there were many and it included extremes, and why not? She wanted a funeral like no other. I won't tell you exactly what occurs at the funeral, but something happens."
What's next for Pollard?
"There's a long road ahead. Nobody can take Valerie's place. He'll continue to run the B&B, he'll open the restaurant, etc, but he won't come out to play."
Could Pollard eventually find love again, though?
"Well, he's 70, which is the new 50, and I'd like to think he still has some delightful places to share with somebody who's like-minded."
Emmerdale, ITV.
Get the latest updates, reviews and unmissable series to watch and more!
Thank you for signing up to Whattowatch. You will receive a verification email shortly.
There was a problem. Please refresh the page and try again.