Matthew Wolfenden does the Real Full Monty: 'If we can get naked in front of 2500, you can get your bits checked'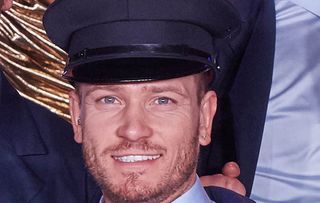 (Image credit: Justin Slee)
Emmerdale star Matthew Wolfenden spills the beans about baring all for The Real Full Monty
Matthew Wolfenden is one of eight male celebrities who will be stripping off at the London Palladium for a special routine, choreographed by Diversity's Ashley Banjo, to raise awareness of prostate and testicular cancer and mark the 20th anniversary of The Full Monty.
ITV's documentary The Real Full Monty follows their progress and here, Matthew 'reveals' all that's in store…
How did you feel when you first asked to do it? "When I was approached, I said, 'I'm not taking my clothes off'. But after I found out it was to raise awareness of male cancer, it was a no-brainer because it's not just eight people taking their clothes off on stage, which to me sounded a bit gratuitous, it's about the fact that if we can get fully naked in front of 2500 people, then you can go to your doctor and get your bits checked, there's nothing to be embarrassed about."
Did the fact that your Emmerdale character David had testicular cancer last year influence you, too? "Yes, it was a big reason why I want to do this. I've become close to several people who have had it and I did the Lorraine Check your Chaps campaign so it's become quite a big thing in my life. After my storyline in Emmerdale, my neighbour came round and knocked on my door and he said 'I just wanted to tell you that after your storyline my son checked himself and found a lump.' So if this documentary goes out and if one person checks themselves, we've done our job."
How did you find the dancing itself? "On the first day of rehearsals, Ashley got us all to dance one by one without music and we all massively bonded then because we could take the mickey out of each other. We have had such a laugh that it doesn't matter about the dance moves or if somebody is out of time and we go wrong!"
Have you been working out to prepare for your final performance? "Yes, I have because I have to stand next to Harry Judd for the majority of the number and he has a six-pack and he looks fantastic. It's stupid because we're doing it to say it doesn't matter what you look like, it's about getting people to check themselves, but we're still doing it in front of cameras and a live audience so I have been going to the gym and we're all going for a spray tan!"
You went to Sheffield for a practice run at the working men's club used as the location for the memorable final performance in The Full Monty, what was that like? "That was the first time we went completely naked so there was even more of a bond between us when we had done that. You feel exposed, but the performance was such a buzz and so liberating and the audience was seriously up for it. When we all came on in our uniforms and hats the place erupted. It was incredible. But the Palladium show will be even more spectacular."
Did watch The Full Monty again beforehand? "Yes, when we went on the coach to Sheffield, they played the film on the bus for us. Then at the club, Paul Barber (above, front), who played Horse in the film, came in and talked about the first time they all did it fully naked in front of an audience and how they were nervous so the director came in with a bottle of booze and gave them a few shots. Paul did the same for us and brought us a bottle before we went out so that took the edge off it a bit!"
Who has been the biggest diva of all of you? "Oh Wayne Sleep, and he'll admit that! He kicks off about most things! No I'm joking, he's got our back and he's the one who'll step up and tell it as it is and we just hide behind him."
The Real Full Monty screens on ITV on Thursday, June 15
Get the What to Watch Newsletter
The latest updates, reviews and unmissable series to watch and more!
Caren has been a journalist specializing in TV for almost two decades and is a Senior Features Writer for TV Times, TV & Satellite Week and What's On TV magazines and she also writes for What to Watch.
Over the years, she has spent many a day in a muddy field or an on-set catering bus chatting to numerous stars on location including the likes of Olivia Colman, David Tennant, Suranne Jones, Jamie Dornan, Dame Judi Dench and Sir Derek Jacobi as well as Hollywood actors such as Glenn Close and Kiefer Sutherland.
Caren will happily sit down and watch any kind of telly (well, maybe not sci-fi!), but she particularly loves period dramas like Call the Midwife, Downton Abbey and The Crown and she's also a big fan of juicy crime thrillers from Line of Duty to Poirot.
In her spare time, Caren enjoys going to the cinema and theatre or curling up with a good book.