Emmerdale's Michelle Hardwick: 'I've started checking myself regularly because of this story' (VIDEO)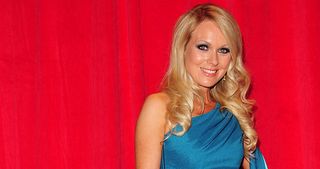 (Image credit: PA Archive/Press Association Ima)
Emmerdale star Michelle Hardwick says her character Vanessa's 39th birthday leads to the shock of her life, when she discovers a lump in her breast.
The discovery happens when Vanessa is enjoying a day off courtesy of her toy-boyfriend, Kirin. After brunch they head back to her's and Michelle says they're soon 'having a bit of fun, shall we say', when Kirin feels something unusual.
Vanessa checks herself and finds something alarming, but tells Kirin it's a cyst, fearing what it could spell for their relationship.
Michelle told What's on TV: "As a woman I don't check myself as often as I should and that is purely because I am scared I'll feel something I shouldn't, but since doing the research and really looking into it and because of the story I've started checking myself on a regular basis now.
"I think when I was younger, early 20s, I felt something that shouldn't have been there and it absolutely freaked me out and I went to the doctor and it was nothing, thank goodness, it was fine. But I could draw on that, that shock and that panic of 'What if, what if, what if..."
Watch the interview with Emmerdale's Michelle Hardwick (Vanessa Woodfield), above, ahead of the development on ITV on Thursday night.
Get the latest updates, reviews and unmissable series to watch and more!
Thank you for signing up to Whattowatch. You will receive a verification email shortly.
There was a problem. Please refresh the page and try again.