'I'm the fittest I've ever been!' says Emmerdale's Anthony Quinlan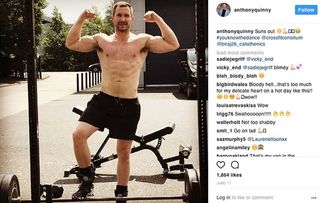 Emmerdale's Anthony Quinlan looks very fit. He reveals to Soaplife how he keeps himself in shape – and he has a cheeky challenge for an EastEnders actor…
Emmerdale's Pete Barton, Leyla Harding and Priya Kotecha have been positively glowing on-screen – and that's not just because of their love triangle. Anthony Quinlan, who plays cheating Pete, also has something to do with it… Anthony is a qualified personal trainer and he's been swapping fitness and nutrition advice with Leyla actress Roxy Shahidi and Fiona Wade, who plays Priya. "We're all on these special juices," he told Soaplife when we chatted to him recently. "Roxy's really on point with her nutrition, but we all need to keep a clear head and you can't do that on chocolate and crisps." Anthony tells us more about his fitness regime, his dreams of opening a gym and his snack of choice: broccoli!
When did you qualify as a personal trainer? "I qualified when I was 18. Sport was something that I was always interested in and I used to play tennis for Lancashire. But I was always a jack of all trades and I was never good enough at any one particular sport. I used to work at a gym in Manchester, training people and making sure their diet was right. It was basically for anyone who wanted to look good naked!"
Have you always been super-fit? "As an 18-year-old, I was really fit. I'm 32 now and I was bigger then than I am now. I trained all the time and I ate like a horse. I'd be in the gym five or six nights a week, but my knowledge of nutrition wasn't as good as it is now. I lost my fitness when I started going out to nightclubs and got into the indie scene. I used to be an all-or-nothing person, but I've found moderation as I've got older."
When did you get into nutrition? "When I got to 26, I started toying with my diet and trying different eating patterns. I'm lucky, though, as I've never put on massive amounts of weight. I'm not a bad cook. My mum loves feeding me, too, and so does my neighbour. She's Asian and the food she makes is unbelievable. She makes the most amazing lamb and rice."
What are these juices you drink? "A couple I know manufacture them. They work for the NHS and one of them had a terminal illness. They changed their diet totally and now advocate an alkaline diet. My favourite contains broccoli, celery, spinach, kale, mint and a squeeze of lemon. Roxy and Fiona are on them, too."
Broccoli juice? Really?! "It's funny, because there was a time when I couldn't stand broccoli. I think my palate must have matured! I actually snack on broccoli with chilli and garlic now. I prefer to eat that than a bar of chocolate."
That doesn't sound like much fun! "Everything in moderation, I say. I don't obsess over it. I often go out with my fellow cast members for a meal, and then I'll eat whatever I fancy."
We hear you had a knee injury last year… "Yes. I had eight months out of training last year because of it and it was hell for me. It was so good to start training again and I'm probably the fittest I've ever been at the moment – and I've been quite shameless in documenting it on Instagram (as our picture shows)! I'm seriously into CrossFit now."
Davood Ghadami, who plays Kush in EastEnders, does CrossFit… You should have a contest! "Let's do it! Emmerdale vs EastEnders. He'd better know what I'm bringing. If he's game, I'm ready."
And you like doing challenges for charity… Tell us about that… "Yes, I've recently done a CrossFit competition called Battle Cancer 2017, which raised money for cancer charities, and I'm due to take part in the Stoke-on-Trent UK Triathlon on September 10. I'm training hard for that, but I don't like swimming very much."
What are your long-term fitness goals? "I really want to run my own gym and teach there. I have numerous friends in the fitness industry who want to come on board. I definitely think it will become a reality for me at some point."
If it does, would that mean you'd have to quit Emmerdale? "No! Acting is my passion. But you never know when you might be out of a job. If that day comes, I want to have something to fall back on that I love as much as acting. You never know what's round the corner in this profession. It's coming up to October and that's always a dangerous time to be in the village… Pete should go on a long holiday!"
Emmerdale, ITV
Get the latest updates, reviews and unmissable series to watch and more!
Thank you for signing up to Whattowatch. You will receive a verification email shortly.
There was a problem. Please refresh the page and try again.