'I feel so lucky to do motor racing as a job!' says ex Emmerdale star Kelvin Fletcher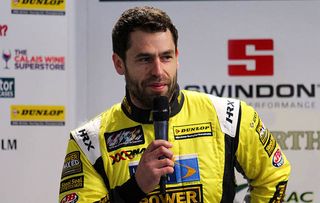 (Image credit: ProSports/REX/Shutterstock)
Emmerdale actor Kelvin Fletcher opens up about his career in motor racing, his baby daughter… and those rumours about his return to the Dales!
Emmerdale is having a fantastic year. But we reckon there's one thing missing – and that's Andy Sugden! It's been hinted that Kelvin Fletcher, who plays him, is set to return. True or false?
"Emmerdale is and always will be in my DNA," Kelvin told Soaplife. "There isn't a day goes by when I don't have some connection with the show. Either I'll be recognised in the street or I'll speak to someone there. I'm actually seeing James Hooton [Sam Dingle] and Danny Miller [Aaron Dingle] soon. But whether I'm going back… Let's just say the people who are convinced I am have a crystal ball that I don't!"
Well played, Kelvin… You deflected that question very well! "[Laughs] Yeah, well, I'm an old pro, aren't I? Look, I really love Emmerdale and I'm immensely proud of it, especially this year when the show is finally getting the recognition it deserves. I watch it as a fan now and it's a great feeling to think I've played a small part in its success. But, you know, I'm having a great time at the moment motor racing."
Tell us about that! "This year, I'm racing in a championship called the British GT for a team called Ultra Tek. As the name suggests, it's a predominantly domestic championship, although we do race in Belgium as well. I'm driving a Nissan 370Z GT4."
How did you get into it? "I'm a bit of a late starter, although I've been an avid fan of motorsports since my childhood. Most drivers come up through go-karting and work their way up, but it didn't happen like that for me. My motorsports career started in 2012 in a Mini championship. I loved it and my passion – and career – quickly developed. It's still as much fun as it was when I first started. But I really like the responsibility that comes with being part of a team. I feel so lucky to be able to do it as a job."
Do you ever get scared? "No. Obviously motorsports do involve an element of danger, but you just have to remain focused on what you're doing."
Is it ever tempting to be a boy racer when you're driving on public roads? "Never! It has the opposite effect. Driving on a circuit means you're almost spoiled, but there are far more dangers when you're on a public road. This makes you extra careful, and the last thing you want to do is get a ticket!"
You're an ambassador for the Road 2 Recovery Foundation, a motorsports charity, aren't you? "Yes. Road 2 Recovery started in the USA and now it's come into this country. It's a non-profit body which was founded to help professional motorcycle racers who've sustained career-ending or life-changing injuries. It helps provide financial and also emotional support to the former riders and their families."
Are you a fan of motorcycling, too? "It was motorcycle racing that first got me into motorsports and I've had the pleasure to meet quite a few professional riders over the years, so it's a charity close to my heart. I've just taken part in a golf day to raise funds and awareness for Road 2 Recovery. You couldn't get a more different sport to motor racing!"
Are you a keen golfer? "I've just become obsessed with it, although I've played a bit for various charities over the years. I suddenly got the bug after taking part in a pro-amateur event at the very prestigious Wentworth Golf Club. Since then, I've been on the golf course every other day for a quick nine holes. It's great being out in the fresh air and it gives me an hour or two to myself."
What does your wife, Liz, think of this new obsession? "Oh, I'm not at the stage of going off for six- or seven-hour golfing days with a long lunch thrown in. I don't do that. It's good that couples have time to do their own thing, but I like spending most of my free time at home now that I have a young family."
Ah yes… Tell us about your baby girl, Marnie Molly… "Being a dad is everything that I hoped it would be – maybe even more. Becoming a father has changed my life, but I was expecting that and it's incredible. I can't imagine life without her now. The time is flying by. She's 10 months old and she's doing more and more every day and changing all the time. Liz and I know how lucky we are to have such a beautiful, happy little girl. Every morning, we're like, 'Ah! Isn't she so lovely?'. Yes, we're all in a really great place at the moment."
Get the latest updates, reviews and unmissable series to watch and more!
Thank you for signing up to Whattowatch. You will receive a verification email shortly.
There was a problem. Please refresh the page and try again.