Kimberley Walsh's sister Amy reveals family background prepared her for Emmerdale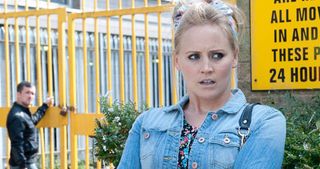 Emmerdale star Amy Walsh has said that growing up in a family of stars in the making helped train her for acting, especially as one of her sisters has already appeared in the soap.
Amy is currently playing Sam Dingle's girlfriend Tracy Shankley in the ITV soap and is the sister of Girls Aloud star Kimberley and actress Sally, who played Lyn Hutchinson in Emmerdale in 1998.
The actress told the Daily Mirror: "Sally was in the show before me, 15 years ago, and she was dating Marlon Dingle. So it was funny I was brought in to play the love interest for another Dingle.
"It was great to talk to Sally about Emmerdale, she gave me lots of good advice. She's having babies at the moment so she wasn't wishing it was her. She told me to enjoy every minute of it and I did."
Tracy only has a limited run in the soap, but Amy said she could return: "The door has been left open for me, I don't fall off a cliff which I am glad about. I would love to come back."
Amy added that growing up as a stage school kid with her sisters and brother Adam meant she got used to the industry early on.
She said: "It was weirder when Sally got on TV than when Kimberley got into Girls Aloud. Going shopping with your sister and getting recognised in the street was very strange.
"It was more bizarre with Sally. Everyone in the village knew who she was and that she was on telly. But because she had done it for so many years, no one was that surprised. It was the first time I had come across the fame side of things.
"It didn't feel that strange when Kimberley became big. I remember going clubbing when I was 18 and her song came on in the club and everyone was screaming. So I've been used to them getting recognised so it has never been bizarre."
Get the latest updates, reviews and unmissable series to watch and more!
Thank you for signing up to Whattowatch. You will receive a verification email shortly.
There was a problem. Please refresh the page and try again.