Emmerdale's Nicola Wheeler reveals why she is 'critical' of her sex scenes – and 'disgusted' with I'm A Celebrity…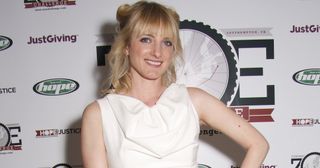 (Image credit: Matthew Taylor/REX/Shutterstock)
Emmerdale's Nicola King is about to be injured in a massive explosion, but it's her sex scenes that actress Nicola Wheeler talks more about here – and why she thinks reality TV "is a con"…
You have some kissing scenes with Jimmy coming up this week. How did you feel about watching your sexy scenes?
"I get embarrassed by my own performance rather than the scenes themselves. I'm really critical and think: 'Oh, I could have done that like this'," Nicola told the Express.
How do you juggle being a mother with this full-on job?
"We're very lucky. My husband is freelance so we share childcare. He can go out to work when I get home if I've got a couple of scenes in the morning. It's a struggle. I try to get my work done at work.
"Anyone who's got children knows you get nothing done when you're at home. You're busy doing all the household washing, cleaning, cooking, looking after your baby. My world becomes my son when I'm at home, not work."
What programmes do you love?
"Game Of Thrones, I'm loving it! We're just on The Affair season two, I love that as well. Me and my husband have a thing where we go 'Nine o'clock, it's box set time'. It's our hour together and then, to be honest, I'm in bed."
After appearing in Cirque de Celebrité, have you any plans to do more reality shows?
"No, I think there's nothing real about reality shows, it's a lie, it's a con. If ever I did it, I'd do it for the money, I'm not going to lie. I'm disgusted with what I'm A Celebrity… did with Lucy [Pargeter, her Emmerdale co-star, who claims she was "unfairly edited"].
"The problem with reality shows is that they add their own script. They're not reality. It's a shame because I would love to do I'm A Celebrity… just for the challenges, but because I saw what happened with Lucy I wouldn't dream of touching it with a barge pole. Unless they offered me a million, which they never would."
On to this week's explosive drama in Emmerdale…How do you conjure up emotional reactions?
"I actually find it really easy to cry. Having a 15-month-old baby and being sleep deprived, I'm always on the brink of crying.
"If you're having difficulty you draw on the various skills you've developed but sometimes, if the writing's good enough, it's easy, the emotion comes. Other times you'll have to use other things like music to help you along the way.
"Nick (Miles, who plays Jimmy King) can draw it out of me as well. You watch your fellow actors and that does it for you."
You used a double for the fire scene. Did you want to do your own stunts?
"Having seen the way she threw herself at the wall, no! It's pretty tough what stunt ladies and guys do. I'd do it but I know I'm one of these idiots that would break my arm on the first take. I'd be useless. No one would insure me to do it!"
Due to Euro 2016 football, the next episode of Emmerdale is on ITV, Tuesday, June 28, 7.00pm
Thank you for signing up to Whattowatch. You will receive a verification email shortly.
There was a problem. Please refresh the page and try again.