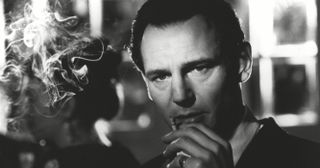 (Image credit: Moviestore/REX/Shutterstock)
Oskar Schindler (Liam Neeson) is a businessman in World War Two Poland
Oskar Schindler (Liam Neeson) is a businessman in World War Two Poland. He uses Jewish slave labour in his factory because it's the cheapest ('Poles cost more,' he comments coldly). However, his attitude towards his workforce gradually changes…
Understanding with every fibre of his being that in the monstrous Nazi world of state-sponsored crooks, gangsters and killers, money is the only thing that talks, Schindler uses his unsurpassed talent for bribing Nazi officialdom to do good - and in doing so saved the lives of more than 1000 of his workers.
Neeson is excellent, Ralph Fiennes, as the murderous camp commandant, is indescribably cruel and Ben Kingsley is charismatic as Schindler's Jewish accountant. Directing with an austere, unflinching realism that allows the horrors of Nazi rule to reveal themselves with stunning clarity, Steven Spielberg's extraordinary testament and memorial to the Holocaust won seven Oscars, including Best Picture, and was nominated for five more.
Get the latest updates, reviews and unmissable series to watch and more!
Thank you for signing up to Whattowatch. You will receive a verification email shortly.
There was a problem. Please refresh the page and try again.