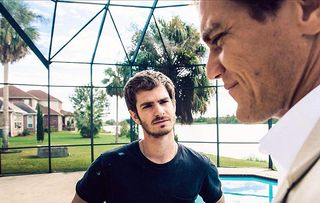 (Image credit: Alamy Stock Photo)
The American Dream turns sour for Andrew Garfield's blue-collar striver in this gripping cautionary drama set in 2010 Florida
The American Dream turns sour for Andrew Garfield's blue-collar striver in this gripping cautionary drama set in 2010 Florida.
At the depths of America's subprime mortgage crisis, he's evicted from his foreclosed family home, along with his young son (Noah Lomax) and mother (Laura Dern).
Then Garfield winds up going to work for the crooked real estate broker (Michael Shannon) who made him homeless.
Garfield's subsequent fortunes are a tad contrived, but he skilfully conveys his inner anguish as he learns from his ruthless new mentor how to prosper from the misery of others.
Shannon's cold-blooded villain is compelling, too, snarling a string of heartless maxims ('America doesn't bail out the losers. America was built by bailing out winners') and giving us a chilling glimpse of US capitalism red in tooth and claw.
Get the latest updates, reviews and unmissable series to watch and more!
Thank you for signing up to Whattowatch. You will receive a verification email shortly.
There was a problem. Please refresh the page and try again.