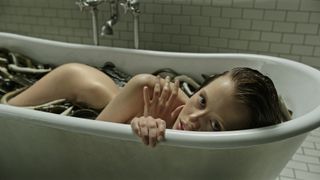 (Image credit: © 2017 Twentieth Century Fox Film Corporation. All rights reserved.)
Wall Street executive Dane DeHaan is sent to retrieve his CEO from a mountaintop sanatorium in the Swiss Alps
Wall Street executive Dane DeHaan is sent to retrieve his CEO from a mountaintop sanatorium in the Swiss Alps.
However, his absent boss doesn't want to leave the bizarre clinic – nor, it seems, do any other of its plutocratic clientele. Why are these white-robed, filthy-rich patients so content with a soporific regime of tai chi and croquet?
DeHaan finds the questions multiplying further when he ends up stranded unwillingly among them by an accident. Who is the ethereal teenage waif (Mia Goth) wafting about the place and why is she the only young person around? What is the connection between the clinic's curious wellness cure and the scandalous, reportedly incestuous baron who lived there 200 years ago? What, ultimately, is the clinic's director, Jason Isaacs' sinister doctor, up to?
Director Gore Verbinski takes his time before solving these mysteries. Far too much time, some will feel.
However, the view from the top of the Swiss mountain is spectacular and, although the movie is undeniably overstyled and overlong, it is also intriguing and genuinely creepy, with plenty of shiver and shudder-inducing scenes involving subterranean vaults, writhing eels and some very grisly dental surgery.
Get the latest updates, reviews and unmissable series to watch and more!
Thank you for signing up to Whattowatch. You will receive a verification email shortly.
There was a problem. Please refresh the page and try again.