A girl's night in turns sour...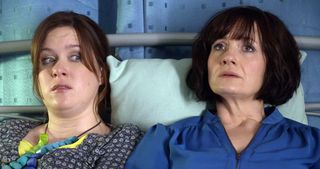 (Image credit: BBC)
Emma and Niamh seek consolation from their disastrous love lives in a girl's night in. A song comes on Heather's mix tape and the mood changes. Niamh tells Emma the song reminds her of Al – she's not over him. Emma consoles Niamh – they're better off without men! Niamh manages to laugh along with Emma but when Emma turns to go, the smile falls.
Jimmi takes Heather out on a date to the bowling alley. Heather is a natural and wipes the floor with him. Jimmi gives up and lobs the ball down the alley with his eyes closed – incredibly, he gets a strike! They fall about laughing - it's clear there's a real connection.
After hours, Mrs Tembe tries her best to help Barry with some constructive criticism in a mock job interview, but he takes her comments to heart and is left feeling that he has no hope.
Also, Rob is on the trail of a man who took a car out for a test drive but didn't bring it back.
Get the latest updates, reviews and unmissable series to watch and more!
Thank you for signing up to Whattowatch. You will receive a verification email shortly.
There was a problem. Please refresh the page and try again.