Alice Through the Looking Glass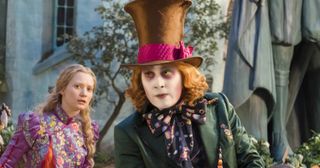 (Image credit: Peter Mountain)
In this sequel to 2010's Alice in Wonderland, Mia Wasikowska's title character returns to the surreal world, where her old friend the Mad Hatter (Johnny Depp) is wasting away from sadness at the loss of his family
In this sequel to 2010's Alice in Wonderland, Mia Wasikowska's title character returns to the surreal world, where her old friend the Mad Hatter (Johnny Depp) is wasting away from sadness at the loss of his family.
Putting things right turns out to be a convoluted affair, which gives Alice plenty of opportunity to show off her pluck and bravado after pinching a time-travelling gizmo, the Chronosphere, from Sacha Baron Cohen's half-human, half-mechanical Time.
Along the way, we learn why Helena Bonham Carter's homicidal Red Queen and Anne Hathaway's fey White Queen are such enemies and reacquaint ourselves with, among others, gormless twins Tweedledum and Tweedledee (Matt Lucas), the Cheshire Cat (Stephen Fry) and caterpillar-turned-butterfly Absolem (silkily voiced by the late Alan Rickman, to whom the film is dedicated).
The cast does sterling work and it's eye-poppingly beautiful to look at, but in the end the muddled storytelling fails to live up to author Lewis Carroll's brilliant topsy-turvy logic and whimsical charm.
Thank you for signing up to Whattowatch. You will receive a verification email shortly.
There was a problem. Please refresh the page and try again.