Alpha - Sky Cinema Premiere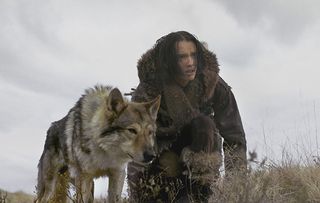 (Image credit: Sony Pictures)
Set in Ice Age Europe 20,000 years ago, this epic adventure stars Kodi Smit-McPhee in a story that imagines how mankind's relationship with dogs might have started
Set in Ice Age Europe 20,000 years ago, this epic adventure stars Kodi Smit-McPhee in a story that imagines how mankind's relationship with dogs might have started.
Callow young Smit-McPhee goes on his first hunt, but is injured and becomes separated from his clan. He then slowly bonds with a wounded wolf as he tries to make his way home.
It's a rousing, decidedly old-fashioned tale, a lot less authentic-looking than 2017's Neolithic survival drama Iceman, but stunning to watch thanks to the CGI boost director Albert Hughes gives to his film's sweeping widescreen landscapes.
Get the latest updates, reviews and unmissable series to watch and more!
Thank you for signing up to Whattowatch. You will receive a verification email shortly.
There was a problem. Please refresh the page and try again.