Animal Rescue Live: Supervet Special - C4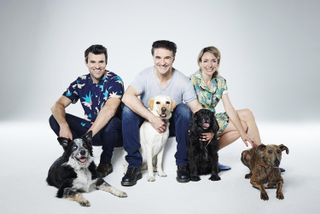 (Image credit: Channel Four)
For Animal Rescue Live: Supervet Special, Noel Fitzpatrick joins forces with the Animal Rescue team for a weeklong special
In Animal Rescue Live: Supervet Special, Noel Fitzpatrick, Steve Jones and Kate Quilton are on a mission to rehome abandoned cats, dogs, rabbits and even goats – animals so cute and charming that we find space in our homes to take them in.
Noel, 51, a surgeon renowned for pioneering work in veterinary science, told TV Times why it was important for him to step away from his practice to help abandoned animals with nowhere to call home.
"Everything is so disposable nowadays – we want an instant fix!
"But animals are so much more important than that. We mustn't see these pets as rejects – they've just fallen on hard times and they need a home."
And what about the current fashion for designer and "toy" dogs? "There are so many fantastic animals needing love in their life. I ask people to please try and look beyond the superficial.
"It's natural to try and look at aesthetics, but you might find you fall in love with a cat who just looks at you a certain way or has a quirky personality."
This year's show comes from Raystede Animal Centre in Sussex, where they also have alpacas. And a few celeb friends pop in, too. Continues until Friday.
TV Times rating: *****
Thank you for signing up to Whattowatch. You will receive a verification email shortly.
There was a problem. Please refresh the page and try again.