Battle of the Sexes - Sky Cinema Premiere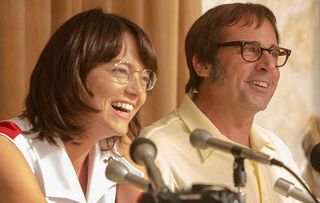 Emma Stone and Steve Carell are on winning form as Billie Jean King and Bobby Riggs in this witty, charming, terrifically entertaining movie
Emma Stone and Steve Carell are on winning form as Billie Jean King and Bobby Riggs in this witty, charming, terrifically entertaining movie.
The story focuses on the pair's notorious tennis showdown in 1973, an exhibition match that pitted feminism against male chauvinism in front of a packed Houston Astrodome and 90million television viewers around the world.
Stone's spunky 29-year-old King is the world's top women's tennis player, while Carell's middle-aged former men's champion Riggs, 26 years her senior, has become a serial hustler and clownish showman.
He throws down his challenge at a time when women players are fighting a sexist tennis establishment for equality, with King prominent in the vanguard as co-founder of the Virginia Slims professional women's tennis tour. And with Riggs having already defeated champion player Margaret Court the stakes for the women's game couldn't be higher.
However, as the big game approaches, both contestants have pressing off-court issues to grapple with. Gambling addict Riggs is striving to save his marriage to his long-suffering heiress wife (Elisabeth Shue), while the married King is struggling to come to terms with her sexuality as she embarks on an affair with free-spirited hairdresser Marilyn (Andrea Riseborough).
'Male chauvinist pig versus hairy-legged feminist,' is how the flamboyant Riggs jokingly sums up the coming match, but King definitely has her game face on.
Working from a script by Slumdog Millionaire's Simon Beaufoy, husband-and-wife directors Valerie Faris and Jonathan Dayton (the team behind Little Miss Sunshine), put this together with playful flair, recreating the era in all its naff splendour and toxic misogyny.
Get the latest updates, reviews and unmissable series to watch and more!
Thank you for signing up to Whattowatch. You will receive a verification email shortly.
There was a problem. Please refresh the page and try again.