A Beautiful Mind - Paramount Network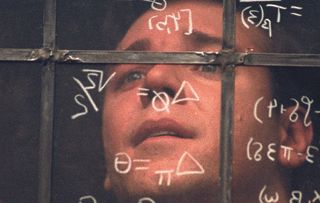 Russell Crowe is quite awesome as Nobel Prize-winning mathematician John Nash, a man with a brilliant mind who battles schizophrenia
Russell Crowe is quite awesome as Nobel Prize-winning mathematician John Nash, a man with a brilliant mind who battles schizophrenia.
Mastering Nash's odd gait, evasive eyes and sly humour ('I'm quite balanced: I have a chip on both shoulders'), Crowe proves his acting range goes beyond tough-guy roles.
The film is slow to start, but Crowe gets classy support from Paul Bettany, as his cheery Princeton University roommate, Ed Harris, as a shady government man, and Christopher Plummer, as a shrink.
Best of all, Jennifer Connelly won an Oscar as Nash's devoted wife.
Thank you for signing up to Whattowatch. You will receive a verification email shortly.
There was a problem. Please refresh the page and try again.