Better Watch Out - Sky Cinema Premiere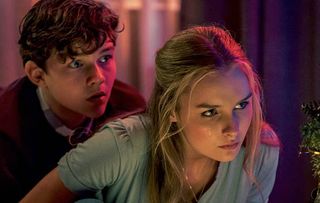 (Image credit: Universal Pictures)
A deliciously dark festive horror comedy in which 17-year-old babysitter Olivia DeJonge's job takes a very creepy turn
A deliciously dark festive horror comedy in which 17-year-old babysitter Olivia DeJonge's job takes a very creepy turn.
First, she is taken aback when her long-time charge, a precocious 12-year-old (Levi Miller), cracks open a bottle of champagne and starts making romantic moves on her after his bickering parents (Virginia Madsen and Patrick Warburton) leave for a Christmas party.
However, the evening soon becomes even more disconcerting. Then a mushroom pizza arrives that hasn't been ordered, a brick is thrown through an upstairs window - and a shadowy, hooded figure is lurking outside...
Films in which teenage babysitters are terrorised by a deranged psychopath are nothing new, but director and co-writer Chris Peckover has a few nasty new tricks up his sleeve here.
It's best not to know too much about the plot going in, save that the film, which is rather like a grisly twist on Home Alone, has an unexpectedly sadistic streak - and that both DeJonge and Miller turn out to be far more resolute and resourceful than you might at first imagine.
Get the latest updates, reviews and unmissable series to watch and more!
Thank you for signing up to Whattowatch. You will receive a verification email shortly.
There was a problem. Please refresh the page and try again.