BlacKkKlansman - Sky Cinema Premiere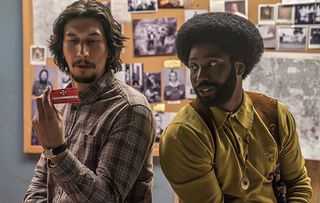 (Image credit: NBC Puma/NBCPassport site)
Proving that truth really is stranger than fiction, director Spike Lee tells the tale of the early-1970s black undercover cop who infiltrated the Ku Klux Klan
Proving that truth really is stranger than fiction, director Spike Lee tells the tale of the early-1970s black undercover cop who infiltrated the Ku Klux Klan.
Hollywood gadfly and goad for more than three decades, Lee is at his provocative best with this gob-smacking tale of officer Ron Stallworth (John David Washington, son of Denzel). Stallworth's first groundbreaking achievement is in 1973 when he becomes the first African-American to join the Colorado Springs Police Department.
He gets sent undercover to report on a Black Power rally at the local college, where he meets and falls for student activist Patrice (Laura Harrier), but it is when he fools the KKK over the phone into believing he is white that things really turn outlandish.
Of course, it's not possible for him to turn up for a meeting with the white supremacists so he sends his Jewish police colleague Flip Zimmerman (Adam Driver) to impersonate him in the flesh. Ron even manages on the phone to bamboozle the Klan's Grand Wizard, David Duke (Topher Grace), but when the pair uncover a violent plot the double deception becomes even more dangerous.
Lee lets rip with this bizarre story, balancing intrigue and suspense with mocking comedy and scorching satire. He doesn't let Hollywood off the hook either, reminding us throughout the film of cinema's power to shape ideas and beliefs, witnessed here by DW Griffith's controversial silent epic The Birth of a Nation, enduring classic Gone with the Wind and some 1970s Blaxploitation movies as well.
However, Lee's most incendiary touch is to draw a series of telling, often gasp-inducing parallels with present-day America.
Get the What to Watch Newsletter
The latest updates, reviews and unmissable series to watch and more!