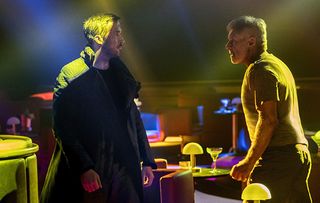 (Image credit: ©2017 Alcon Entertainment, LLC.)
Ryan Gosling is marvellous in this magnificent sequel to Ridley Scott's iconic 1982 sci-fi masterpiece, Blade Runner
Ryan Gosling is marvellous in this magnificent sequel to Ridley Scott's iconic 1982 sci-fi masterpiece, Blade Runner.
It was always going to be a tall order to follow that groundbreaking classic, but Canadian director Denis Villeneuve proves more than up to the task.
Set 30 years after the action of the original, Villeneuve's film depicts a still-bleak LA but has Gosling's new Blade Runner, K, as its hero. Unlike Harrison Ford's enigmatically ambivalent Deckard, however, K is indisputably a replicant, although his mission for the police is the same as his predecessor's: hunting down rogue replicants and 'retiring' them.
However, a puzzling discovery at the site of a bruising showdown with his latest synthetic human prey sends him on a cryptic quest that has profound existential implications for humanity - and himself.
Like K, you will need patience and attention. Villeneuve takes his time laying out the story, but there are abundant rewards for staying the course.
The future world the film conjures up is stunning and haunting, as Roger Deakins' Oscar-winning photography captures the dystopian beauty of rain-drenched streets and smog-suffocated sky.
The characters are compelling, too. Ana de Armas as K's holographic companion, Robin Wright as his police lieutenant boss and Sylvia Hoeks as his scarily ruthless nemesis all give striking support to Gosling's yearning hero, while Ford, reprising his original role, conveys a suitably grizzled weariness.
And, on top of all this, there are cunningly planted references to the first film, which will enthrall fans as well as keeping them on their toes.
Not to be missed.
Get the What to Watch Newsletter
The latest updates, reviews and unmissable series to watch and more!