Call Me By Your Name - Sky Cinema Premiere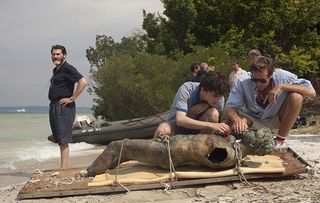 (Image credit: Sony Pictures)
In Italy in the summer of 1983, precocious 17-year-old Elio (Timothée Chalamet) is hanging out at his family's grand villa
In Italy in the summer of 1983, precocious 17-year-old Elio (Timothée Chalamet) is hanging out at his family's grand villa.
Then the arrival of handsome doctoral student Oliver (Armie Hammer) disrupts his repose and stirs up unexpected emotions.
A sensual coming-of-age story capturing the hesitancy and longing of first love, this excellent movie forms the final instalment in a 'trilogy of desire' by Italian director Luca Guadagnino, following I Am Love and A Bigger Splash. Those earlier films were tales of smouldering passion set in privileged and rarefied worlds and Call Me By Your Name is very much the same.
Elio's family is ostentatiously cultured. He himself switches effortlessly between English, Italian and French, and is a gifted musician who can improvise on Bach melodies in the style of Liszt and Busoni on the piano.
Hammer's newcomer isn't the least overawed, though. Oozing alpha male assurance, he corrects his host on the etymology of 'apricot' and is every bit as buff as the ancient bronze statue of a boxer retrieved in one scene from the waters of Lake Garda. It isn't only the local girls who are left swooning by his presence. Elio, too, falls under his spell.
As the summer unfolds with dreamy languor, Guadagnino takes his time in developing his protagonists' romance, but Chalamet and Hammer's chemistry keeps us enthralled. Surprisingly, given how hyper-articulate everyone is, the duo's most potent scenes are wordless, conveying a wealth of emotion in glances and gestures.
It is Elio's American archaeology professor father (Michael Stuhlbarg) who delivers the film's most powerful scene, an eloquent speech to his heartstruck son that brims over with generosity and wisdom.
The screenplay, adapted by James Ivory of Merchant-Ivory renown from a novel by acclaimed Proust scholar André Aciman, won an Oscar, and the film also picked up nominations for Best Film, Best Actor for Chalamet and Best Original Song (Sufjan Stevens' Mystery of Love).
Get the What to Watch Newsletter
The latest updates, reviews and unmissable series to watch and more!